Obituary for Beverly "Bev" Ridgely
Beverly Sellman Ridgely succumbed, basically of nothing more than old age, on October 25, 2017, in Providence, Rhode Island. He was 96 years young, and for nearly a quarter-century had resided at Laurelmead Cooperative, a retirement home. Lucid nearly to the end, he was surrounded by his three children and their spouses as well as several grandchildren. It was a peaceful, almost moving passing – a fitting end to a long and productive life.
Bev was born on December 16, 1920 in Baltimore, Maryland, and spent his entire youth there, graduating from the Gilman School in 1939. He loved sports, and particularly excelled at lacrosse, even then a Baltimore specialty. From there it was on to Princeton University, from which he graduated, Phi Beta Kappa, in 1943. With World War II raging, and after several months of NROTC training at Columbia University, he was inducted into the U.S. Navy as an Ensign. In 1944 orders took him to the Pacific theater, with assignment to the destroyer escort U.S.S. Manlove on which he served while that small ship was in the Marshall Islands. At that point, life for Bev took an unusual and unexpected turn. Instead of continuing west with his ship, he received orders for, of all places, Miami, Florida, where he was to become an instructor at the Naval Training station there.
Bev's naval superiors permitted him to take a little time off while there to marry the love of his life, Barbara Tomkins, on May 20, 1944. He and Barbara would remain married for almost seventy years, until her death in April 2013. Meanwhile Bev realized that he enjoyed teaching and was good at it.
Others saw that promise too, and upon mustering out of the Navy at the end of the war, Bev was recommended to receive one of the first Woodrow Wilson fellowships ever awarded, an award that enabled him to embark upon a graduate course of studies in the French and Classics Department back at Princeton University. There he was awarded his Ph.D in 1953, by that time having already been hired as an Instructor in the Department of French Studies at Brown University in Providence, Rhode Island, becoming a tenured professor and remaining there for his entire professional career, instructing and inspiring a procession of undergraduate and graduate students in the French language and, increasingly, French literature and culture. While imparting that knowledge with verve was always his primary goal, Bev also dove into the life of the university, particularly its sporting life (the one thing he couldn't abide was administrative work – becoming department Chair was not for him!). He became a devoted, even rabid, supporter of various Brown sports teams (especially soccer, hockey, and, of course, lacrosse), a support that would continue for the rest of his life, with an increasing emphasis on encouraging the participation of women on various teams; he ended up being named Faculty Advisor for several.
Much though he would always love the country of France and Brown University, Bev was soon to demonstrate that his interests were broader. Having early on achieved the rank of tenured Professor, one could have expected him to remain a fixture on the university's faculty, continuing his research and instilling in his students a love of the French language, literature, and culture. However to the surprise of many he decided to retire early, in 1980, this so as to have the time to pursue avocations that had interested him since boyhood.
One was postage stamps. Having been an avid collector since his teenage years, now Bev had the time to become a real expert, and he opted to focus on one group in particular, the images of birds – his other love – on stamps. Bev proceeded to become arguably the world's expert on bird stamps, an achievement of which he remained very proud, cataloguing nearly each and every one. As there now are over 4,000 bird species depicted on stamps, having to research every one kept him busy, and he continued hard at it until only a few days before the onset of the health crisis that was to end his life.
The beauty of bird stamps was that they combined Bev's two primary, non-French interests: the stamps themselves and his love of birds. With retirement Bev had the opportunity to become an indefatigable "world birder," travelling the globe to see as many different species as he could, very often with his wife Barb in tow and on a number of very special occasions with his son Robert, by now a professional ornithologist, leading the group. He ended up visiting every continent, some multiple times, and seeing well over 3,000 species, loving every minute of it.
Birds were by then leading him in yet another direction: many species were becoming rarer, even endangered. It was by then too late for Bev to become involved with international conservation efforts himself so he had to be satisfied with financially supporting the private, not-for-profit organizations that by then had sprung up to try to address the problem. What he could do, however, was dive into more local efforts, with a focus on the region surrounding the cottage that he and Barb had built at Squam Lake in 1970, the modest house that they would come to call "Le Marais" (the marsh – always the French professor!). The beautiful lake seemed to inspire both of them, with Bev paying particular attention to its iconic Common Loons and then to all the birds found there, culminating in the 1988 publication of the authoritative "Birds of the Squam Lake Region." Spending so many happy months at Squam inevitably meant that he would become concerned about its future too, and what followed was a long-term involvement with the Squam Lakes Conservation Society on whose board Bev served for many years, ultimately as Trustee Emeritus. That the lake and its surroundings remain as pristine as they are is, in no small measure, due to that organization's efforts and to Bev's involvement with it.
Bev enjoyed good health for much his life, but especially after the death of his wife Barbie infirmities started to catch up with him. Even he had to relinquish his car keys (that was a struggle!), and his mobility became more limited. The result was an increasing "confinement" to Laurelmead, but he accepted this with equanimity and his talkative good nature made him numerous new friends, especially among the ladies! A resident-managed group, LEEF, the Laurelmead Employee Education Fund (whose goal was to expand education opportunities for staff and their families), became the focus of much of Bev's attention, and he took an avuncular interest in the recipients of the group's scholarship aid, beaming upon hearing of their progress. Just like he would have back at Brown!
Bev led a long, productive, and happy life, and all of us who knew him already miss him dearly. He is survived by his three children, Robert, Virginia Howe, and Peter; also their spouses Peg Ridgely and Debrah Ridgely, and their children Laura Hatch, Mary, and Dillon Ridgely; Marian Howe; Christopher and Scott Ridgely; and no less than seven great grandchildren, Adeline, Lillian, Lyla, Carter, Spencer, James, and Cameron.
Burial will be private. A memorial service will be held on November 18th at noon in the Redwood Chapel in Swan Point Cemetery in Providence, RI. A reception will follow at Laurelmead.
In lieu of flowers, the family requests that contributions in Bev's memory be made to the Squam Lakes Conservation Society, PO Box 696, Holderness, NH 03245, or to LEEF, Laurelmead, 355 Blackstone Boulevard, Providence, RI 02906.
Read More
To send flowers or plant a tree in memory of Beverly "Bev" Ridgely, visit the Tribute Store.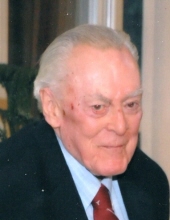 Thank you for sharing your
memory of Beverly
Provide comfort for the family by sending flowers or planting a tree in memory of Beverly "Bev" Ridgely.
No thanks, please don't show me this again.