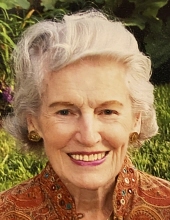 Obituary for Virginia Rathbun Stuart
Virginia was born in Providence, RI on the 29th of July,1921; the daughter of Rodman Gardiner Rathbun and Lillian Nevin Rathbun; both descended from families established in 17th century RI. She attended Lincoln School, graduated from Skidmore College and was summarily recruited by the OSS for administrative duties regarding the activities of WWII intelligence gathering and dissemination. She was assigned first to the North Africa Cairo Desk, then briefly to Italy with her final operations location in China. During her assignment in China, she met and married her husband Colonel Gilbert Stuart (dec'd 1973), an Australian fully commissioned in the Chinese Nationalist 5th Army under General Tu Yu-Ming; engaged in commando and training exercises with the OSS.
Upon her return to Providence, Virginia entered a career of communications and broadcasting as one of the first women in on-air broadcast TV while working for Capital Cities Broadcasting at WPRO-TV in Providence, RI, from 1955 to 1963. In 1963 she moved with her family to Honduras, where Col. Stuart, a mining engineer by profession, was engaged in exploratory gold and quicksilver mining. After some years in Central America, she established residence in Washington, DC and was engaged as a specialist media consultant with the office of John Gardner, Secretary of Health, Education and Welfare. Her penchant for aid and justice for humankind led her career to many challenging and successful ventures with a variety of nonprofit and health organizations; Executive Director of Call for Action; Director of National Volunteer Awards; Director of Tune In New York; Director of Public Relations at Children's Hospital, Boston; Director Public Relations at St Clare's Hospital, NYC dealing with communications and media coverage of the first designated AIDS unit in 1980's New York City.
Virginia retired in 1990 and returned to Providence, RI whence she married Elisha Howard III (dec'd) 2008.
Virginia was a member of the Office of Strategic Services Society, the Providence Art Club, the RISD Museum, Preserve Rhode Island, RI Historical Society and Grace Episcopal Church in Providence. She supported efforts in Native American education as well as several organizations engaged in environmental and animal protection.
Virginia is survived by four children, Clair S. Green, Ann D. Stuart, Mary G. Stuart and Gilbert R. Stuart, nine grandchildren and eight great grandchildren. She was predeceased by her sisters Edith Nevin Rathbun of Providence, RI and Ruth Rathbun Pitman of Madera, CA.
A memorial service will be held on Friday January 27th at 11AM in Grace Episcopal Church in Providence. Donations in her memory may be made to the Providence Animal Rescue League, 34 Elbow St. Providence, R.I. 02903. Condolences may be left at monahandrabblesherman.com
Read More
Previous Events
Service
Grace Church
Westminster Street
Providence, RI 02903