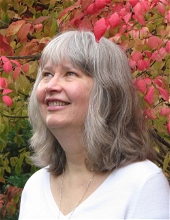 Obituary for Mary M. Wellman, PhD
A bright light has been extinguished. Mary M. Wellman, PhD, 76, of Uxbridge, Massachusetts, died on April 27, 2023, of complications attributable to end-stage Alzheimer's disease. Born on May 20, 1946, in Brooklyn, New York to Anna Loth Haunss and John F. Haunss, she was a lifelong learner, warm, caring, funny, and enthusiastic in work and relationships. She adored animals of all species, shapes, and sizes, and as a youth considered a career in veterinary medicine. She also loved many forms of music, which provided enormous comfort during her illness.
Mary was a dedicated educator, psychologist, and healer with a passion for advocating for vulnerable people, especially children, teens, and members of marginalized communities. After receiving her BS in Education from SUNY at Geneseo NY, she began her career teaching 3rd and 4th grades in Kings Park, NY, from 1967 to 1974. Having completed her MA from SUNY at Stony Brook and her CAGS from C.W. Post campus of Long Island University, she became the Reading Specialist at the Thompson, CT elementary school, where she served from 1974 to 1981.
Following graduation in 1980 from the University of Connecticut, with a PhD in Educational and School Psychology, and licensure as a psychologist in 1981, Mary opened a private consulting practice in psychology in Charlton, MA, performing psychological evaluations for many state agencies and school districts. She also joined the Psychology faculty at Rhode Island College, Providence, RI, as an Assistant Professor. Working her way up the ranks, she eventually became a Full Professor of Counseling and Educational Psychology, helping to train a generation of school psychologists for service in Rhode Island and Massachusetts.
Mary explored various forms of spiritual enlightenment, including Judaism, Sufism, Hinduism, and North, Central and South American Indian spiritual practices. From 1994-2014 she was proprietor of Radiant Healing Arts Wellness in Uxbridge, MA, where she used her spiritual wisdom to teach meditation, stress relief, and the enhancement of growth and wellness.
She enjoyed historic restoration as a hobby and, with the Charlton Historical Society, was instrumental in the restoration of the historic Rider Tavern in Charlton. She spent several years volunteering for AIDS Project Worcester during the height of the HIV/AIDS epidemic in the 1980s.
Mary is survived by her "bashert" (soulmate), Robert J. Wellman, PhD. During their almost 55 years together they encouraged one another to be their highest selves, and he misses her dearly. She will also be missed by many close friends. Mary was preceded in death by her mother, Anna Loth Haunss, her father, John F. Haunss, and her maternal aunt, Wihelmina (Wilma) MacIntosh.
A private graveside service was held at Swan Point Cemetery, Providence, RI. In lieu of flowers, contributions can be made to People First Food Pantry, 19 Douglas Street, Uxbridge, MA 01569, or online at https://www.peoplefirstuxbridge.org/.
Read More