Obituary for Janet Lorraine Casavant
On Saturday, February 11th, 2023, in the twenty-sixth minute of the fourth hour post meridiem, Janet Lorraine Casavant, of Pawtucket, Rhode Island, passed away after a long, arduous battle with breast cancer, at Hope Hospice in Providence, Rhode Island, with family by her side.

Born in Providence, Rhode Island on October 19th, 1954, to Edgar Casavant and Theresa Casavant (née Sorel), Janet was the seventh of twelve children born to Edgar and Theresa. Raised in a home as one of a dozen children, Janet learned to face adversity early on in her life. She attended Tolman High School, in Pawtucket, RI; though ultimately decided that the world was far too large a place for one to simply stand still, and thus enlisted in the United States Air Force in 1971, where she obtained a GED. While on Active Duty, Janet was stationed in California, where she served as a Chaplain's Assistant. Upon completion of her service, she returned home, briefly. Still craving adventure, she set off backpacking across the European continent, where she stayed in youth hostels and scrubbed pots and pans at various inns and taverns to earn a traveling wage.
When Janet returned to the states, she found employment as a bookkeeper at the infamous Bachelor's Quarters in Providence, RI. She then married John Allen, of Pawtucket, RI; an elephant tamer who worked at Southwick's Zoo in Mendon, MA, and later at Slater Park Zoo in Pawtucket, RI. In 1983, Janet gave birth to her first child, her daughter Bernadette Kathleen Allen-Casavant, of Pawtucket. Her marriage with John Allen reached dissolution in the early 1980's, and Janet sought a divorce. In 1987, Janet married her second husband, Joseph F. Bruzzi, of Pawtucket, a Pawtucket Firefighter. The same year, she gave birth to her second child, a boy, Anthony Joseph Bruzzi, of Pawtucket. The following year, in December of 1988, she gave birth to her third and final child, a boy, named Domenic Francis Bruzzi. As fate would have it, this second marriage also reached dissolution in 1990.
From 1990 until the late 2000's, Janet raised her three children as a single mother, working tirelessly to provide for her family. During this time, Janet earned a Bachelor's Degree from Bryant University in Smithfield, RI, and later a Master's Degree from Salve Regina University. Her career saw her work as an accountant for many years at East Bay Mental Health Center, in Barrington, RI, as a Specialist with the United States Army National Guard in Rhode Island, as a child support enforcement agent with the State of Rhode Island Department of Child Support Services, and as a social worker and therapist in private practice. In 2017, Janet was diagnosed with breast cancer. Over the next six years, countless rounds of chemotherapy, radiation, experimental medications, and sheer force-of-will kept Janet fighting the disease. Unfortunately, Janet's cancer metastasized and spread to her vital organs.
In the final months of her life, Janet was primarily cared for at home by her children, with additional aid provided by her sister, Rita Maher, who diligently drove her to and from all of her medical appointments. In her final days, she was kept comfortable at Hope Hospice center in Providence, RI, where a nurse was in awe of how strong her heart remained while the rest of her body slowly shut down. In her final hours, her family gathered to say their goodbyes and be by her side. In the final minutes of her life, she was sung to sleep by her son, Domenic, and quietly passed away.
Janet is predeceased by her parents, Edgar and Theresa Casavant (née Sorel), her elder sister, Suzanne Busonick (née Casavant), her elder brother, Albert Casavant, and a nephew, Jay Casavant. Janet is survived by her daughter, Bernadette Casavant, her son, Anthony Bruzzi, both of Pawtucket, her son, Domenic Bruzzi, and his partner Tara Lusignan, of Warwick, her granddaughter Bianca Rose Casavant-Barrett, her granddaughter Autumn Rain Casavant-Barrett, both of Pawtucket, her elder brother, Robert Casavant and his wife Marcia, of Mineola, FL, elder sister Rita Maher and her husband Dennis Perrino, of North Providence, RI and Bradenton, FL, elder sister Pauline McKee, of Pawtucket, elder brother Eugene Casavant and his wife Maryann Casavant, of Rehoboth, MA, younger brother Peter and his wife Sandy, of Pawtucket, younger brother Paul and his wife Linda, of Pawtucket, younger sister Marie Casavant, of Cumberland, younger sister Frances Travers and her husband Christopher Travers of Bradenton, FL, and baby sister Michele Casavant and her former spouse Ronald Colby, of Cumberland, as well as dozens of nieces, nephews, their spouses, and their children and grandchildren.
A Funeral Mass will be held on Friday, February 17, 2023, at 10:00 a.m., at the Church of Saint Teresa, 358 Newport Avenue, Pawtucket, RI 02861.
Following the mass, a reception will be held at the LeFoyer banquet hall, 151 Fountain Street, Pawtucket, RI 02860
In lieu of charitable donations, a GoFundMe has been set up to help the family pay for funeral services, reception, and final expenses.
https://gofund.me/7698ff4f
Read More
To send flowers or plant a tree in memory of Janet Lorraine Casavant, visit the Tribute Store.
Previous Events
Service
Church of Saint Teresa
358 Newport Avenue
Pawtucket, RI 02861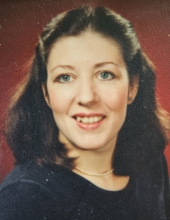 Thank you for sharing your
memory of Janet
Provide comfort for the family by sending flowers or planting a tree in memory of Janet Lorraine Casavant.
No thanks, please don't show me this again.