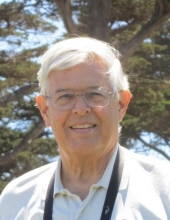 Obituary for Albert E. Dahlberg
Dr. Albert E. Dahlberg, age 83, passed away peacefully on March 1, 2022, at HopeHealth Hulitar Hospice Center in Providence, RI due Cerebrovascular Disease. The son of Albert A. and Thelma Dahlberg, he is survived by his wife of 58 years, Pamela; three children, Albert (wife Hilary), Krista and Paul (wife Becky); six grandchildren and a brother (Jim) and sister (Cordelia). He was a researcher and professor of Molecular Genetics and Biochemistry at Brown University for 43 years. He published numerous research articles on the structure and function of the ribosome.

Born and raised on the south side of Chicago, Al's family was close friends with his wife Pam's family and the two of them grew up together. As a child, Al spent his weekends and summers on a family farm in rural northwest Illinois, where he became an expert bareback horse rider. He was a standout athlete in basketball and football at Harvard School for Boys in Chicago, but injuries prevented him from playing at Haverford College, which he attended with his brother Jim.

Al embraced life fully, devoting himself to scientific research, helping others and enjoying his family, whom he adored. With a quick wit and a distinctively kind and quirky sense of humor, he enjoyed being with friends and colleagues from around the world. He particularly loved puns and spinning fanciful tales of his fictional collaborator George Q. Pennable, who was noteworthy for his "useless suggestions and pointless comments" but credited nonetheless in many of his publications. An avid Brown University Bears football fan, he loved attending their games and serving as a football recruiter and faculty advisor to the team for many years.

A 1960 graduate of Haverford College, he received his MD (1965) and PhD (Biochemistry 1968) from the University of Chicago. After completing a pediatric internship in 1967 at the University of Chicago hospitals, he served during the Vietnam War from 1967 to 1970 in the Public Health Service at the National Institutes of Health (NIH) in Bethesda, MD. While living in the Washington D.C. area, Al and Pam marched in the first ever White House vigil to protest the Vietnam War. They also joined the Society of Friends meeting and became lifelong Quakers. In 1970, they moved to Aarhus, Denmark for two years while Al continued his research in biochemistry.

In 1972, he received an appointment as an Assistant Professor of Medical Science at Brown University and the family returned to the US, settling in Providence, RI. Al became a Full Professor of Medical Science in 1982. During his academic career he was a Visiting Professor at University of Wisconsin – Madison; University of Copenhagen, Denmark; and University of New South Wales, Sydney, Australia.

He received 43 years of uninterrupted funding from the NIH for his research, mostly focused on the structure and function of the prokaryotic ribosome. He co-authored two books and wrote chapters in fourteen books. He published over 120 academic journal articles on the topic of ribosomes. Forever committed to academic integrity and professional honesty, later in his career, Al published an article that refuted some of his previous findings on the mechanisms of ribosomal function. During his four decades at Brown University, Al taught, mentored, and advised countless undergraduate, graduate, medical and doctoral students, and post-doctoral researchers while running his research laboratory. In addition to this, Al served on numerous national and international scientific boards, the Faculty Executive Committee at Brown, as well as several local non-profits. Al was also the medical director of Beech Tree Laboratory, a founder of Milkhaus Laboratory and on the Board of Directors at The Monroe Institute in Virginia.

Above all, Al will be remembered for his gentle and kind spirit, ability to light up a room with his presence, his insatiable curiosity and wonder, love for his family and friends, and his desire to make this world a better place for all.

Memorial services will be announced at a later date. In lieu of flowers, the family requests a donation to the HopeHealth Hulitar Hospice Center, the Providence Friends Meeting or Doctors Without Borders.