Obituary for Bruce Broughton Burnett
Dr. Bruce Broughton Burnett passed away October 12, 2019 in the Intensive Care Unit of Rhode Island Hospital in Providence following a prolonged illness. Bruce had been a resident of Attleboro for over 40 years.

A private funeral was held at the Swan Point Cemetery and Chapel in Providence on Saturday, November 2, with touching tributes from family members, friends and colleagues from Bruce's long and distinguished career in clinical social work. Scattering of his ashes will take place in the spring at the convenience of his family.

Dr. Burnett was born August 3, 1932, in Summit, New Jersey, the middle son of Henry Bowen and Alicia (Broughton) Burnett. The family moved to Warwick, Rhode Island in 1943, and Bruce attended Warwick Schools. The family was active in the Asbury United Methodist Church in Gaspee Plateau. Bruce played church league basketball at Aldrich High School, where he graduated in 1950. Always full of fun and mischief and possessing a well-developed funny bone, Bruce, nicknamed "Bink," and brother Hank excelled in performing pranks and good-hearted hijinks, much to the consternation of their parents and often directed at kid brother, David, whom the family called "Deke."

After high school, Bruce entered Bates College in Lewiston, Maine, and studied there two years until transferring to Harvard University, in Cambridge, Massachusetts, where he completed his Bachelor's Degree in 1954. He cherished this time at Harvard and was always proud to promote the Crimson. That same year he married Phoebe Ann Johnson of Hingham, Massachusetts, and volunteered for the draft, a two-year military obligation, which he completed in 1956. He then started post graduate work and received his Master's Degree in Social Work from Boston University in 1958 after which he began his career at Emma Pendleton Bradley Hospital in East Providence, Rhode Island. In succeeding years, he was promoted to Director of Social Work, and then Director of The Child Guidance Clinic from 1971-1983. In 1985 he left Bradley Hospital and began seeing patients privately in Pawtucket and Providence and then at his home office in Attleboro, which continued until his death. From 1969 to the present, he was a social work consultant to multiple agencies in Rhode Island. In 1970, Dr. Burnett founded the Child Abuse Action Coalition in Rhode Island. He was President of the Rhode Island Chapter of the National Association of Social Workers from 1971 to 1973.

From 1974 to 1982, Dr. Burnett was at various times an instructor at RI College, Salve Regina University, University of Rhode Island and Providence College. In addition to his work at Bradley Hospital, he began working on his doctorate degree at Boston College. In 1990 he received his Doctor of Philosophy from the Boston College School of Social Work. In 1993, as a result of his work obtaining his Ph. D., The Ohio State University School of Social Work recognized Dr. Burnett with an award for "Outstanding Research: One of the 15 Best Dissertations in the Country."

In 1980 he became the Founder and President of the Rhode Island Chapter of the National Committee for the Prevention of Child Abuse. Three years later he made a trip to Scandinavia to present at the International Conference on Child Abuse. In 1986 he traveled to Fiji, Australia, and New Zealand to present at the 6th International Conference on Child Abuse and Neglect.

In 1984 Dr. Burnett returned to part-time teaching, this time as an instructor at Boston College School of Social Work until 2006. Dr. Burnett was awarded Social Worker of the Year: Children and Families by the RI NASW in 2001. The Boston University School of Social Work Alumni Association presented him an award for his outstanding career in social work in 2002.

His long list of accomplishments barely touches at the positive influence that he had on countless people through his professional and personal relationships. He valued all people and devoted his life to improving the lives of some of the most vulnerable among us.

As busy as he was writing papers, attending conferences, and counselling patients, he always had time for his family, which by 1985 consisted of a wife and six children. His first marriage ended in 1974, but he was always very active in his children's lives. He bought a condo in North Conway, New Hampshire, in 1976, and the following year bought a permanent home in Attleboro, Massachusetts with Candice Kantrowitz (Cahanna), whom he married in 1979. He and Candice traveled extensively to such destinations as Hawaii, Mexico, Europe, Central America, the Caribbean, Africa, Australia and New Zealand.

Dr. Burnett was preceded in death by his parents Henry and Alicia Burnett, Rhode Island, and a brother Henry Bowen Burnett, Jr. Dr. Burnett is survived by his wife, Candice, and children Katherine Burnett Angelini and husband Sam, Thomas Starbuck Burnett and wife Dawn, Susan Burnett Pullyblank, Benjamin Gardiner Burnett and wife Isabel, Adam Joseph Burnett, and Alexander Bowen Burnett and wife Erin, a brother, David Bailey Burnett and brother-in-law Lawrence Bacon, and thirteen grandchildren, Max and Troy Angelini, Timothy, Sarah, Beth and Rebecca Burnett, Cole and Phoebe Pullyblank, Bruce, Deanna and Matthew Burnett, and Lochlann and Magnolia Burnett.

Bruce's greatest loves were the family lake house on Flying Pond in Vienna, Maine, weekend, vacation activities with his loving family, reading, and cheering on his favorite sports teams: the Red Sox, Celtics, Patriots, Bruins, Harvard and the University of Wisconsin. Zipping around Flying Pond in the family's motorboat with children and grandchildren in tow, on water skis and tubes, brought the greatest joy to his life.

Donations in Dr. Burnett's memory can be sent to the Flying Pond Improvement Association's Dam Repair Fund, Post Office Box 143, Mt. Vernon, Maine 04353.
Read More
To send flowers or plant a tree in memory of Bruce Broughton Burnett, visit the Tribute Store.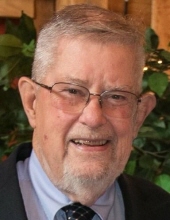 Thank you for sharing your
memory of Bruce
Provide comfort for the family by sending flowers or planting a tree in memory of Bruce Broughton Burnett.
No thanks, please don't show me this again.