Obituary for John Imbrie
John Imbrie, 90, of Seekonk, Massachusetts died May 13, 2016 at the Hattie Ide Chaffee Home. He was the Henry L. Doherty Professor of Oceanography Emeritus at Brown University. 
 
John was born on July 4, 1925 in Penn Yan, NY, the son of Charles K. Imbrie, a Presbyterian minister and Margaret (Fleming) Imbrie. He attended Coe College, Iowa for two years before leaving to serve in the Tenth Mountain Division during World War II. He was wounded in action in Italy in 1945, and on his return he attended Princeton University. In 1947 he married Barbara Zeller, of Stonington, Connecticut. He graduated from Princeton in 1948 and received his PhD in geology from Yale in 1951. 
 
While at Yale, Barbara worked in the Yale Admissions office, which was beginning to use multivariate regression to assist in projecting student performance based on their test scores and grades. John was very interested when she showed them what they were doing, and perhaps this was the seed that led to his leadership in the coming quantitative revolution in paleontology.
 
He was innovative from the start, and willing to take up new and challenging problems throughout his career. As a deep-time paleontologist, he introduced multivariate statistical methods to the analysis of fossils. At Columbia, he introduced multivariate analysis to students there, including Stephen Gould. He became department chair in 1966. 
 
John's student Leo Laporte wrote to him to consider joining the faculty at Brown University. John was unhappy with his duties as chairman at Columbia, and in 1967 he accepted a position at Brown on the condition that he would never have to be chairman! He and Barbara built a house in Seekonk, Massachusetts, where they lived for 49 years.
 
From 1973-1975, John served on a National Research Council panel that developed a 10-year research program for advancing understanding of climate change and the climate system. During the next decade, paleoclimatic research became central to understanding climate dynamics in atmospheric and ocean sciences. 
 
At Brown, John devoted himself to the study of microfossils in marine sediments from the Quaternary period of ice ages. With collaborators at Columbia, URI and later Oregon State University, he co-founded an NSF-sponsored multi-institutional project called CLIMAP (Climate: Mapping and Prediction), within which he masterminded his most famous discovery by using time series analysis to demonstrate that Earth's orbital variations pace the multiple glacial/interglacial cycles of the ice ages. This work led directly to his election to the National Academy of Sciences in 1978 and to his selection as a MacArthur fellow in 1981. John received numerous honors, including the Maurice Ewing Medal in Geophysics in 1980, an Honorary Degree from the University of Edinburgh in 1989, the Leopold von Buch Medal in 1990, the Lyell Medal for Geology in 1991, the Vetlesen Prize in 1996, and the Vega Medal of the Swedish Society of Anthropology and Geography in 1999.
 
 
With his son, John, now a mathematical physicist at the University of Virginia, he wrote an influential paper modeling past climates, and with his daughter Kate, he wrote Ice Ages: Solving the Mystery about the historical developments leading to our current understanding of ice-age climates. In 1979, the book won the Phi Beta Kappa award for science writing. 
 
From 1981 to his retirement in 1990, he directed SPECMAP, an inter-institutional, international, interdisciplinary project that used time series analysis of marine cores to identify the timing and variability of orbital-scale environmental changes. Throughout his long career, he was able to bring together scientists around the world to work cooperatively on unraveling the mysteries of past climates. John encouraged, influenced, inspired, and supported many young faculty and students, a number of whom are current leaders in paleoceanography and paleoclimatology.
 
After retirement, he became an enthusiastic collector of wine glasses and also a lead historian for the men he had served with in the Tenth Mountain Division. With his wife Barbara's help, he produced several books and videos about his time of service. 
 
John had a special love of skiing and the mountains, and this influenced his decision to join the mountain troops in World War II. He was devoted to his family, and shared with them his love for skiing, sailing, beach trips, and camping.
 
John is survived by wife Barbara, his daughter Katherine P., his son John Z. Imbrie, and three grandchildren.


A memorial service will be held at 1:30 on Sunday, May 22 in the Manning Chapel at Brown University. Donations in John's memory may be made to the Lewy-Body Dementia Association, lbda.org.

To send flowers or plant a tree in memory of John Imbrie, visit the Tribute Store.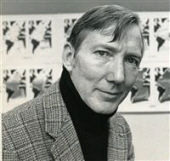 Thank you for sharing your
memory of John
Provide comfort for the family by sending flowers or planting a tree in memory of John Imbrie.
No thanks, please don't show me this again.