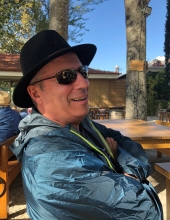 Obituary for Michael D. Pearlman
Michael D. Pearlman, 64, of Warwick, RI, passed away peacefully at his home on May 2nd surrounded by his loving family.
Mike was the amazing husband of Maureen (O'Shea) Pearlman. He was the rock star father of David (Creach Critter) and his partner Liz; Eric (Buggidy) and his wife Jennifer; and Annie (Peabody).
Born in Newport RI, Mike was the son of the late Morris Brown and Sara and Ben Pearlman, and the brother of Rick Pearlman, Ellen Beltz, Nancy Pearlman, Martha Pearlman Rollins, and Ted Pearlman. He was predeceased by siblings David Brown, Bruce Comstock, and Joyce Comstock. He was greatly loved by his nieces and nephews and devoted caregivers Anne Marie O'Shea and Margie White. He also had a wide extended family of cousins, aunts and uncles with whom he shared a special bond.
Mike was the owner of Sterling Shoes for many years. In recent years, he opened Mike Pearlman Guitars — following a longtime passion as a skilled luthier. His musical talents were known far and wide for his years in the Laurence Talbot Band and Clear Blue RI, playing everywhere from CBGBs to Cheers. He would light up a room with his super-deluxe blues riffs.
Mike was a skilled craftsman, a dedicated bandmate and a deeply devoted friend. He was always naturally funny and witty with a wild streak of surreal, off the wall humor.
Our world is a better place because of the loving kindness Mike radiated to all he met.
A Celebration of Life will be held at the Roger Williams Park Casino 1000 Elmwood Ave. Providence RI. at Noon on Saturday May 11th. In lieu of flowers, please honor Mike's memory by donating in his name to: Girls Rock! RI:
https://www.mightycause.com/donate/Girls-Rock-Rhode-Island
or to the National Brain Tumor Society:
http://bit.ly/defeatGBM
.
Read More