Obituary for Susan Heller Hay
Susan Heller Hay, of Providence, RI died on October 3, 2020 after a short illness.
She was born October 12, 1938 in Minneapolis, MN to Suzanne and John Heller. While
in Minneapolis she was a student at a well-known progressive and experimental
elementary school, Sidney Pratt. Music was always an important part of life for Susan,
her sister Mary and their parents, and often involved singing around the piano on
Sunday nights. Susan was an excellent pianist, due to lessons from the age of four.
In 1949 the family moved to Urbana, IL, where Susan graduated from the University
Experimental Laboratory High School, attended Cornell University, and after a summer
in Lyon, France on the Experiment in International Living, graduated from Cornell with a
degree in French. It was during this time in France that she fell in love with the French
people, language and culture, an interest that would inform her later work in costumes
and textiles. During her first marriage, she had numerous adventures in Europe,
including challenging the guards at Checkpoint Charlie on the way to see an art
museums in East Germany and sleeping on the beach in Saint-Tropez. She
subsequently obtained her Masters Degree in French from Brown University, and later
moved to Philadelphia where she had a son, Scott. In Philadelphia she greatly enjoyed
being part of Singing City, a choral group that continues to enthrall to this day.
It was in Philadelphia that she found her true calling working at Independence
National Park in 1976, the Bicentennial Year. She was asked to research and reproduce
a replica of a carpet which had adorned the floor of the Senate in
Independence Hall, seen in paintings of the continental congress, but that had long
since disappeared. After two years of research and design, the new carpet, a 22x40-foot
Axminster, was re-installed with much fanfare where it had originally lain, and she wrote
96-page book about her work, "The Most Splendid Carpet". While pursuing her PhD at
the University of Pennsylvania, she became assistant curator of costumes and textiles
at the Philadelphia Art Museum, occasionally acting as a courier for the museum,
traveling to Europe or Japan with a Cezanne or Picasso locked to her wrist, or attending
International Textile Conferences in Europe and Japan.
In 1985, Susan moved to Providence with her second husband Edward Hay, where
she became the first curator of Costumes and Textiles at the Rhode Island School of
Susan Stahr Heller Hay 10/12/38 - 10/3/20
Design Museum. There she produced many beautiful exhibitions from the collection and
wrote or edited the excellent catalogues for them, including "A world of Costume and
Textiles"; the "Patterns and Poetry" No Robe catalogue and narrative of Lucy Truman
Aldrich's collection of Japanese robes; and the story of the Tirocchi dress-making sisters
told in the exhibition and book "From Paris to Providence". She established enduring
relationships with philanthropic families in support of textile exhibitions. She was much
admired at the RISD museum for her scholarship, her love for art and culture, her deep
interest in History, and unfailingly high standards of excellence.
Outside of work, Susan and Ed had an enduring love based in a strong friendship.
They shared an appreciation for American and family history. They traveled to France to
see the cave paintings in Lascaux in the Dordogne and again to visit her French "family"
in Lyon. She enjoyed the detective work of tracking down a large group of relatives
celebrating 800 years of Hellers in the town of Wil, Switzerland. Together Susan and Ed
were intellectually invested in politics, art, the environment, and science, and were avid
consumers of local and national news. They spent many happy years restoring a 17th
century farmhouse in Rehoboth, MA, where they met their beloved barn cat, Kingsley.
Susan and Ed later moved to Barrington, RI, to be closer to the ocean, as they shared
an affinity for the water. Throughout her life, Susan had a deep love of gardening, and
especially of growing tomatoes. After her retirement, she continued to contribute to art,
textile, and historical exhibits at the Barrington Preservation Society Museum. Ed and
Susan loved sharing good movies, and Susan enjoyed audiobooks from the Barrington
Library.
Three months after she died, Ed, her husband of 33 years, unexpectedly passed
away, rejoining her in spirit. Susan is survived by her son from her first marriage, F.
Scott Anderson, and her sister, Mary Fairbanks. She will be dearly missed, but never
forgotten. A private service will be held for Edward and Susan next summer followed by
burial at Evergreen Cemetery, Portland.
Read More
To send flowers or plant a tree in memory of Susan Heller Hay, visit the Tribute Store.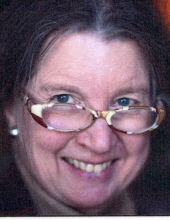 Thank you for sharing your
memory of Susan
Provide comfort for the family by sending flowers or planting a tree in memory of Susan Heller Hay.
No thanks, please don't show me this again.