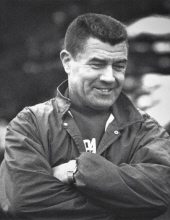 Obituary for Clifford J. Gillespie, Jr.
Clifford J. Gillespie, Jr. Lifelong Educator and Coach

RUMFORD, RI – Clifford J. Gillespie, Jr., 88, died peacefully at home on Sunday, February 21, 2021, surrounded by his loving family and caregivers after a long struggle with Alzheimer's disease.

Born in Revere, Massachusetts on December 7, 1932, to Clifford J. Gillespie, Sr. and Viola (Sylvester) Gillespie, he was the second of five children. He graduated from Weymouth High School in 1950 where he was a star right guard in football and won Division I State Championships with his team. The first of his family to attend college, he went to Tufts University where he was co-captain of the freshman football team before enlisting in the Air Force in 1951. He completed jet school in Las Vegas and was the youngest to achieve the rank of staff sergeant.

Under the G.I. bill, he enrolled at the University of New Hampshire and majored in chemistry, graduating cum laude in 1959, and completed his master's degree in science teaching in 1964. While at UNH, he played varsity football, and also two years of semi-pro football, before being introduced to the game of lacrosse by the legendary coach, A. Barr "Whoops"' Snively. Whoops was his greatest mentor and role model and instilled in Cliff a true love of the game. Cliff received honorable mention for the All-American Intercollegiate Lacrosse Team while playing at UNH.

In1959, Cliff moved to Proctor Academy in Andover, NH, with his new bride, Alina, where he taught math and science, coached, and was dormitory head. He led the varsity football and junior varsity hockey teams at the school before starting the lacrosse program, at first scrounging for sticks, helmets and other equipment, before the sport became officially recognized there. Following his five years at Proctor, he joined the faculty at St. Paul's School in Concord, NH, with his young family, where he served as a science teacher, then Chair of the Science Department, later Dean of Students, and ultimately Interim Headmaster before retiring from the school.

During his tenure at SPS, Cliff gained a reputation as a dedicated and disciplined teacher and mentor. He was instrumental in launching a new science curriculum at the school, helping to integrate computers into the classroom, and designing the Lindsay Center for Math and Science on campus. He also taught organic chemistry as part of the Advanced Studies Program for high school students during summers. He received the Presidential Award for Excellence in Science and Mathematics from the National Science Foundation as well as the Certificate of Excellence from the Whitehouse Commission of Presidential Scholars for his teaching and contribution to the field of education. While on sabbatical, Cliff and Alina enjoyed travel to several European countries including Austria, England, Greece, Poland, and Switzerland. They also toured Asia extensively while representing St. Paul's when he was headmaster.

In 1973, Cliff assumed the reins of the SPS lacrosse team and crafted his unique brand of coaching, which led to five consecutive league championships. He inspired his team to three straight undefeated seasons in 1980-1982 with a string of forty consecutive wins. He was known for his strict conditioning regimen including running "The Loop," which many will remember, and for his philosophy of lacrosse as a way of life—requiring character, teamwork, loyalty, and desire—which he instilled in his players. Among other honors, he was named the Independent School League's Coach of the Year four times; voted the Independent School Lacrosse Association's Man of the Year in 1993; and, in 1994, became the first ever recipient of the Carroll Jr. Exemplary Coach of Year Award from the US Lacrosse Association. Later, he was inducted into the New England Hall of Fame for lacrosse where there is a bronze statue bearing his name. Affectionately nicknamed "The Rock," Cliff had a commanding presence but compassionate core and always led by example, never expecting more from his players than he asked of himself.

In addition to his vocational passions, Cliff embraced other activities beyond the classroom and sports fields, earning a second-degree black belt in karate; restoring antiques bought with family at auctions throughout New Hampshire; studying ceramics under the renowned potter, Peter Sabin, of Warner; and crafting stone walls at their Dunbarton cape house. During retirement, Cliff and Alina joined St. John's Episcopal Church in Dunbarton serving in the vestry under the Reverend Kelly Clark, former headmaster at St. Paul's School. Cliff was also a member of the Board of Trustees of The Governor's Academy in Byfield, MA for 10 years, served on the Board of Directors of NH Child and Family Services for 3 years, and was a Dunbarton town representative on the School Superintendent search committee.

Throughout his life, Cliff believed in striving for excellence; giving freely and willingly of one's time to others; playing tough but with fairness and compassion; and remaining true to oneself. His pursuits were inextricably tied to his students both in and outside of the classroom. For him, working hard was its own reward. In all of his endeavors, he was supported and encouraged by Alina, who embodied similar values. Cliff's role, put simply, was that of a catalyst in the growth and development of adolescents. He was wholly committed to the life of the School and those associated with it. His reach extends well beyond the limits of the campus to those around the globe whose lives he has touched, and by whom he was touched in return. The family expresses its heartfelt thanks for the continuing support, outreach, and love from his former students, players, parents, and friends throughout the years and through his illness.

In honor of his life-long commitment to education, the Clifford J. Gillespie Medal was established by trustees at St. Paul's in 1997 in recognition of Cliff's 33 years of dedicated service to the School as teacher, coach, and Interim Rector. It is awarded each year to the student who best embodies the qualities that characterized his career: honesty, integrity, and an eagerness to undertake the tasks, great and small, that make the School a better place. The Anderson-Gillespie Lacrosse Trophy was also established at Governor's Academy in 1991 by Peter Bragdon, then headmaster and a long-time friend, to honor Cliff's coaching success and his personal devotion to the game of lacrosse. For Cliff, his most prized possession was his iconic red Ford pickup truck presented to him by the SPS Board of Trustees upon his retirement.

He leaves his beloved wife, Alina, of 63 years, of Rumford, Rhode Island; his cherished daughters: Dede Moubayed, her husband, Peter, and their son and Cliff's treasured grandson, Zander, of Rumford, Rhode Island, and Susie Gillespie, of Providence, Rhode Island; his brother, Robert Gillespie, and his wife, Debbie Wheeler, of Northfield, New Hampshire; his sister-in-law, Donna Gillespie, of Mount Dora, Florida; his brother-in-law, Malcolm Wiley, of Biddeford, Maine; and his many nieces and nephews. He was predeceased by his eldest brother, Wesley Gillespie, and his wife, Edna; his brother, John Gillespie; his sister, Wilma Wiley; and his dear friend, Bruce Van Ness.

A memorial service will be held at a later date with notification to follow.

Condolences may be left on the Monahan Drabble and Sherman Funeral Home website at mkds.com.
Read More