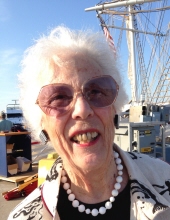 Obituary for Virginia M. "Po" Adams
Virginia M. Adams, 91, known to all as Po, died peacefully at home on Wednesday, October 13, surrounded by her loving family. She was the widow of Thomas R. Adams, former Librarian of the John Carter Brown Library at Brown University. Po was a beloved member of the Providence community where she resided for more than 60 years.
Po was born in the Germantown section of Philadelphia, PA, to Robert R. Matzke and Helen H. Matzke. She attended the Stevens School and graduated Phi Beta Kappa from the University of Pennsylvania. She received her Master of Library Science degree from the University of Rhode Island.
Adams served as the first Curator of Special Collections at the Providence Public Library, assuming the post in 1969 when the library formally established a department for its historical materials. While in that position, she developed modernization and preservation initiatives and prepared an exhibition and catalog honoring the 100th anniversary of the collections, which include the Nicholson Whaling Collection, the world's second largest collection of whaling logbooks. She also organized a permanent collection for the papers of the library's first librarian, William Eaton Foster.
In 1980, Adams was appointed the first full-time, professional Librarian at the New Bedford Whaling Museum when the Old Dartmouth Historical Society was constructing a new building to house its collections. Her responsibilities involved organizing and cataloguing the institution's thousands of books, documents, and manuscript collections in formats appropriate for a contemporary research library. Said a museum colleague who worked with Adams, "She started at the beginning with what had been called a library, and organized it into the modern world." Adams was named Librarian Emerita upon her retirement in 1995.
While at the Whaling Museum, Adams' discovery of writings by a young Black soldier from New Bedford serving in the Massachusetts 54th Regiment marked a significant advance in Civil War scholarship. Sorting through materials to be catalogued, she found some single-sheet poems signed by "James Henry Gooding." One of the poems referenced a New Bedford whaling voyage. Intensive exploration of regional records then enabled Adams to establish that the poems' author had lived in New Bedford, served on a local whaler as a teenager in the 1850's, was a Black man, and was the "J.H.G." of the newspaper columns about soldiering in the Massachusetts 54th Regiment.
On the Altar of Freedom, A Black Soldier's Civil War Letters From the Front, Adams' volume of annotated letters and poems by Corporal James Henry Gooding, was published in 1991 -- two years after the fictionalized depictions of Massachusetts 54th participants in the movie "Glory." Corporal Gooding wrote his eloquent and insightful firsthand reports about life in the 54th in 1863, as the famed Black regiment prepared for its fateful attack on South Carolina's Fort Wagner. The letters were carried weekly in the New Bedford Mercury newspaper over the initials "J.H.G." But the columns were then seemingly lost to history for well over a century, and no other such extended contemporaneous Civil War accounts by a Black soldier are known.
Adams' finding helped fuel increased scholarly attention to the origins, biographies, and roles of Blacks in the Civil War. The historian James McPherson, in his Foreward to Adams' book, praises her "superb detective job" in tracking down information about Gooding and others mentioned in the letters. Her detailed annotations, McPherson writes, "provide a major contribution to Civil War scholarship." He concludes: "With the publication of these letters, our understanding of the Civil War is immeasurably richer."
Published by the University of Massachusetts Press, On the Altar of Freedom was named a 1991 Notable Book of the Year by the New York Times and a selection of the History Book Club. Paperback editions, including a Japanese translation, were subsequently issued by the university press and other publishers, and are still in print.
Adams designated that all proceeds from her book be devoted to acquisitions for the New Bedford Whaling Museum.
Po was active in many local organizations including The Handicraft Club, The Pottery and Porcelain Club, and the Fox Point Neighborhood Association. She and her husband Tom were longtime members of the Providence Athenaeum and subscribers to the RI Philharmonic Orchestra. Her book A History of the Handicraft Club, 1904-2004 was published as part of the historic group's centennial celebration. She was a past vice president of the John Russell Bartlett Society for the book arts and remained a scholar and archivist to the end.
A well-known member of Providence's College Hill community, highly regarded for her hospitality and cuisine, Po delighted in bringing the neighborhood together to welcome newcomers and for traditional celebrations. She was a member of the Barnstable Yacht Club on Cape Cod for many decades, where she enjoyed sitting on the pier and catching up with all generations. Po had an unending curiosity and interest in current events, gardening, travel, the arts, and people. She led an intentionally healthy life with good food and libations, lively conversations, and until the last six months, had a determined 73-step morning exercise routine. She maintained a consistent positive outlook and radiated a deep belief in unconditional love and good humor despite life's challenges.
Her family was the center of her life, and she was known to her grandchildren as Mima. She leaves two children--Virginia H. Adams of Topsham, VT, and Josephine L. Adams of Boston, MA; her youngest daughter, Eliza S. Adams of New York, NY, died in 2017; three sons in law--Richard Savignano, Ken Rivard, and Tom Easton; five grandchildren--Tomas Savignano, Elena Savignano and husband Dr. Nick Canelo, Oliver Rivard, Roxanne Rivard, Isaac Easton and wife Julia Easton; and one great grandchild--Charles Easton. Adams is also survived by two siblings, Robert R. Matzke Jr. of Denver, CO, and Martha K. Matzke of Washington, DC. Her older sister, Jean Perkins, died in 2008.
Her memorial service will be held December 4 at St. Martin's Church, 50 Orchard Ave., Providence at 11am. Face masks are requested at the church. In lieu of flowers, contributions in her memory may be directed to Team Porto-Trade, for the Pan-Mass Challenge bike-a-thon, in support of the Dana-Farber Cancer Institute and the Jimmy Fund. The link to donate is
http://profile.pmc.org/TR0095
Pan Mass Challenge, 77 4th Ave., Needham, MA 02494."
Read More
Previous Events
Service
Saint Martin Episcopal Church
Orchard Street
Providence, RI 02906