Obituary for Thomas D. Bouchard
Thomas D. Bouchard passed away on May 8th 2018 at Rhode Island Hospital, surrounded by his loving family. He was 67 years old. He was born on May 31st 1950 in Pawtucket and was a lifelong resident of the city. He graduated from West (Shea) High School in 1968, and worked as a shipper for both Nissen and Calise Bakery. He retired at age 65.
He is survived by his wife, Susan (Paré) Bouchard; his daughters, Simone Woods (son-in-law Daniel Woods) and Danielle Bouchard (son-in-law Aaron Martin-Colby); his granddaughters, Evelynn and Holly Brunet; his two brothers, Michael and Robert Bouchard, and his sister, Denise Finn; his niece and nephew, Emily and Daniel Finn; as well as his large extended family. He was preceded in death by his parents, Clement and Simone (Desrosiers) Bouchard, and his brother, Raymond Bouchard. A private scattering ceremony for his family will be held at Swan Point Cemetery. In addition, a celebration of life gathering is planned for June. Please contact a member of his family for further details.
Tom was an incredibly hard-working and responsible man. Throughout his entire career, he took perhaps 4 sick days off. However, he would be the first to say that his work was not his life – his life was his family and his hobbies. He was a loving and devoted husband who held firmly to his marriage. He often referred to his wife as his best friend. There was no one closer to him, no one upon whom he relied on more. They were part of each other, in ways only deeply connected partners can understand.
He was an equally dedicated and supportive father to his two daughters. He often joked that he must done something right to have both his children be girls. So it followed that he was delighted when both his grandchildren were also girls. His daughters and granddaughters were the levity and joy of his life. Weekends spent playing cards (Cribbage, in particular), going to the movies or the bookstore, or going for walks with his wife and daughters was time well spent. He greatly looked forward to family gatherings, traditions, and events: Thanksgiving, apple picking every autumn, weekend brunches, dance recitals, etc.
Tom was also a quick-witted, funny, intelligent man who loved to consume information – books, movies, news, and television. He was adept at puzzles, and particularly enjoyed crosswords. He loved biographies and history and read all he could about Abraham Lincoln, Winston Churchill, the Civil War, and World War II. He had an equal appreciation for fine literature and "fluff" reading – his favorite genres being thrillers, mystery, fantasy, and drama. His love of Stephen King was legendary, and he held "The Lord of the Rings" in highest esteem.
But above all, Tom was a kind and generous man. His sense of humor was sharp and he loved to tease, but it was all an expression of affection. He was giving of his time, his support, his knowledge, and his wisdom. He will be missed beyond words by his wife, his daughters, his granddaughters, his siblings, his many in-laws, his friends, and by anyone fortunate enough to have known him.

"Death is just another path, one that we all must take. The grey rain-curtain of this world rolls back, and all turns to silver glass, and then you see it… White shores, and beyond, a far green country under a swift sunrise." –J.R.R. Tolkien, The Return of the King.
Read More
To send flowers or plant a tree in memory of Thomas D. Bouchard, visit the Tribute Store.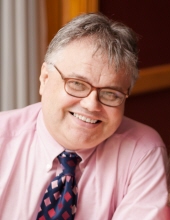 Thank you for sharing your
memory of Thomas
Provide comfort for the family by sending flowers or planting a tree in memory of Thomas D. Bouchard.
No thanks, please don't show me this again.