Obituary for Stephen Jay Starger
Stephen J. "Steve" Starger of Warwick, RI and Willimantic, CT, died Friday November 13 at age 79. He was a writer, teacher, editor, reporter and musician, a gifted and dedicated servant of two muses. Born May 23, 1941in the Bronx, NY, he was the younger of two sons born to Joseph and Elsie Starger (neé Wolfe). His family moved from the Bronx in the early 1940s to Willimantic where, by the mid-1950s, his father owned and operated a local smoke shop and newsstand. Steve's youthful imagination was captured by music and popular culture, with a wide range of abiding literary influences that included the controversial EC "Horror" Comics, American science fiction novels of the 1940s and 1950s and Jack Kerouac's seminal 1957 novel, "On the Road," to whose chronicle of "rebels and madmen, poets and writers" Steve became "hooked" for life. He entered the University of Connecticut in Storrs in 1959, majoring in English Literature. The summer of 1963, Steve got his first full-time newspaper job with the Alexandria (VA) Gazette, having also worked during his college years freelancing arts and culture features for the Willimantic Chronicle and stringing for the Hartford Times' Willimantic bureau. He returned for his senior year at UConn and found himself in the midst of what he later described as the "nascent counter-culture" in Storrs, whose locus was the Campus Restaurant. It was there that he began a number of life long relationships to people, music and his writing. He received his B.A. from UConn in 1964. A year later, he was drafted into the U.S. Army in the midst of the Vietnam War. After basic training, he was deployed to Fort Buchanan, a training center outside San Juan, Puerto Rico where he taught English to Spanish-speaking draftees and recruits, enabling them to report to the US mainland for basic training. He was discharged in 1967, returned to Storrs, intending to collect enough credits for a master's degree in English, but instead found himself playing keyboards for a psychedelic rock band named NGC 4594. NGC was named for an astronomical body known as the "Sombrero Galaxy." The band relocated to New York City where they auditioned for Mercury Records and were invited to record an album of original compositions by fellow keyboardist David Bliss; one of these, "Skipping Through the Night" was released as a 45-RPM single that would become a fixture in the Campus Restaurant's famously eclectic jukebox. The band broke up in the fall of 1967, but not before assembling enough tracks to make a demo album. The album became a cult item and was re-released in 2010 as a compact disc by a British distributor. Steve returned to daily journalism in the late 1960s with the Hartford Courant, first as a reporter with the paper's Willimantic bureau and then as an editor and writer for the Courant's State Desk. His varied assignments included covering the state's anti-Vietnam War movement, making some of the paper's first forays in rock-music reviewing and writing features for the Sunday magazine. In the early 1970s, Steve left the Courant for a return to the music business, playing piano for a series of jazz-rock outfits before helping form Sun Ship, a fusion band named for a John Coltrane LP. The band was offered a contract with Capitol Records for whom it recorded one album, in 1974, "Into the Sun." Though the label didn't pick up its option a year later, the band continued to work the club circuit throughout the Northeast, playing cover versions of soul, funk and pop standards of the era. Steve left the band in 1976 and got regular work playing keyboards for vocalist Dino Minelli at Hartford's Hilton Hotel lounge. The following year, Steve relocated to the Los Angeles area where he continued to pursue his writing. He returned to Connecticut in the early 1980s and eventually found work as both a pianist, often gigging with the eponymous big band Hartford, and a journalist with the Manchester Journal-Inquirer. Thanks to Marco Squatrito's cooking class, Steve met Polly, and quickly became embedded in family life with Polly's two daughters Ashley and Emily. In 2006, his keen eye for visual nuance, his lifelong love for comic books and his journalistic resources came together when he co-authored, with J. David Spurlock, "Wally's World" (Vanguard), a comprehensive and gripping biography of the brilliant and ill-starred comic book artist Wally Wood. It was shortlisted for the 2007 Will Eisner Comics Industry Award for best comics-related book. His second book, published in 2018, was the acclaimed "Misfits and Supermen" (Friesen Press), from which many of the quotes for this notice are taken. It is a vivid, moving family history and personal remembrance focusing on Steve's relationship with his older brother Melvyn, who grew up with a combination of mental health issues that led to lifelong institutionalization. The book was hailed by Kirkus Reviews as "a unique, thoroughly engaging memoir that gets at the tragedy and dignity of our collective isolation from one another." In both his chosen fields, Steve not only exhibited mastery of craft and a persistent, beguiling romanticism, but also served as a devoted friend, role model and unofficial mentor to generations of younger players and writers nourished by his rich, vast knowledge, his generosity of spirit and his unfailing optimism. As with the best mentors, he believed he learned as much from those younger people as they learned from him. He leaves behind his wife of 25 years, Polly T Barey of Warwick, R.I., stepdaughter, Emily B. Barey of Middleton, WI and his three grandchildren, Nina Henderson, Anne Henderson and Will Henderson, and stepdaughter, Ashley A. Barey of Newport, RI. Funeral arrangements are pending due to COVID, a celebration of life is planned for fall 2021. Memorial donations may be made to Planned Parenthood of Southern New England and Sweet Relief Musicians Fund and in the name of Melvyn D. Starger to the Camp Cuhega Scholarship Fund at the Waterford (CT) County School.
Read More
To send flowers or plant a tree in memory of Stephen Jay Starger, visit the Tribute Store.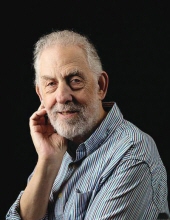 Thank you for sharing your
memory of Stephen
Provide comfort for the family by sending flowers or planting a tree in memory of Stephen Jay Starger.
No thanks, please don't show me this again.