Obituary for Ruth Kiven Arellana
Ruth Kiven Arellana, 77, of Riverside, RI died peacefully on July 15, 2019, at the Hulitar Hospice Center surrounded by her loving family and friends.


Born in New York on April 24, 1942, Ruth grew up in Providence, RI and attended Lincoln School for Girls and Brown University. Her classmates remember her for inspiring the best in others and for her intellect, leadership, and love of adventure.


Ruth was a teacher, world traveler, voracious reader, skilled cook and gardener, humanitarian, and social justice warrior. Her light touched many people and many corners of the world.


Ruth was a joyous spirit, was perpetually curious and loved learning new things. She had a healthy skepticism about "conventional wisdom" and was always interested in gathering her own original observations and experiences of an idea, a place, a person.


A teacher in many settings, she taught professionally at both Lincoln School for Girls in Rhode Island and Kent Denver in Colorado, worked as a tutor, and volunteered for many organizations from Proyecto Linguistico Español-Mam in Todos Santos, Guatemala to Progreso Latino in Central Falls, RI.


At the Lincoln School, she served in many capacities including as an upper school teacher: ninth-grade English and junior-senior grammar and composition elective; Acting Director of Admissions; Scheduler; Director of the Learning Center; Middle School sixth grade English and Social Studies teacher; sixth, seventh, and eighth-grade Spanish teacher. At the Kent Denver school, she served as sixth grade Department Chair and Grade Chair. After moving back to Rhode Island to be closer to her family, she worked as a private tutor until her retirement.


As a teacher and tutor, she loved equipping her students to fervently pursue their paths. One of her students remembered her for "never giving up on me even when I gave up on myself." And a former teaching colleague described her as "sweet, kind and funny but also a courageous GIANT who changed a school from within and had a huge influence on her students and their families."


Ruth was raised on the East Side of Providence as part of a close extended family. The eldest of many cousins, she was a "warm, intelligent, calm and supportive presence and source of wise advice."


Throughout her life she helped host large extended family dinners filled with conversation and laughter -- out of control cackling, to be precise. Whenever there was a need, Ruth delivered "loving from the oven" -- she was a fantastic cook. When her aunt Gladys was dying in Memphis, Ruth and her mother, Arline Kiven, went to support her. Ruth quietly and efficiently took over the kitchen - cooking and cleaning up several times of the day for the large family that had descended to be with Gladys.


Within the family, she is remembered for her courage, sense of humor, empathy, and love of all things artful.


A world traveler, she was especially curious about other cultures. She marveled at the ingenuity, diverse perspectives and worldviews of the people she met on her travels. Fluent in Spanish, she traveled extensively throughout Latin America, enriching her classes with insights from her travels, studies, and living overseas. Ruth believed her travels offered her students a window through which they could see other parts of the world.


She studied Spanish and traveled in Mexico on her own; lived and worked with indigenous people in Guatemala over five summers; explored the significant ruins of the Maya and Inca worlds to prepare for teaching about their cultures; and traveled to remote parts of Western China to learn about strategies to reduce desertification and to experience Muslim culture in China.


About her teaching philosophy, Ruth wrote "I demonstrate my willingness to take positive risks traveling and living in third world countries in order to learn more about their cultures, and I model how to be an inquisitive, responsible, and worldly person. Finally, I bring to a school my willingness to question my own beliefs and attitudes and to stand up and work for what I believe is right." She deeply believed in others — children, colleagues, friends, and empowered many.


After her retirement, Ruth dedicated herself to her family, friends, and the First Unitarian Church of Providence, RI community where she was was a life-long member, small group leader, and dedicated volunteer.


She made it her spiritual practice to connect with newcomers and welcome them into the life and heart of the community. At First Unitarian, she was admired for her constant presence on the twin fronts of caring and social justice. Her favorite day of the month was volunteering at Food Pantry.


She was known to be generous with her kindness and warmth. One member wrote that she was "a force for good in this world, and our First Unitarian family will miss her dearly."


It was at First Unitarian that Ruthie met Craig Wood in the summer of 2018. They soon decided to spend the rest of their lives together. Their love and friendship was a joy to behold.


Ruth was thoughtful about life and death. She created space for honest conversation about death and dying with family, friends, and her "Death and Dying" group. Her end-of-life story was inspiring in that she was able to provide her children with direction on her course of care following a massive brain hemorrhage and her passage out of this world was peaceful, dignified, and painless with time for her closest loved ones to surround her in love, bear witness to her transition and hold her soft hands.


Ruth is survived by her children and their spouses Kate Bowden and Russ Hopson, and Peter Bowden and the Rev. Amy Freedman; three grandchildren: Lydia and Adelaide Hopson and Liza Bowden; her brother Charles "Chuck" Kiven, his wife Kathy and their children Nate and Megan, a close extended family of cousins; and the great love of her life, Craig Wood.


All are welcome to a MEMORIAL SERVICE with a reception to follow on Sunday, September 22 at 3:00 pm at the First Unitarian Church, 1 Benevolent Street, Providence, RI 02906.


In lieu of flowers, donations in memory of Ruth K. Arellana may be made to the National American Civil Liberties Union at https://action.aclu.org/give/make-gift-aclu-someones-memory

To send flowers or plant a tree in memory of Ruth Kiven Arellana, visit the Tribute Store.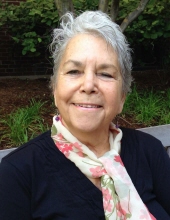 Thank you for sharing your
memory of Ruth
Provide comfort for the family by sending flowers or planting a tree in memory of Ruth Kiven Arellana.
No thanks, please don't show me this again.