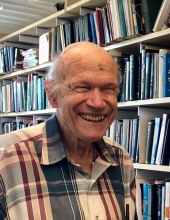 Obituary for Russell M. Church
Russell Miller Church, 90, of Providence died peacefully on May 24, 2021. Russ was known for his positive outlook, academic curiosity, infectious smile and kind spirit. He was born to Donald and Pearl Dee Church in New York City. Russ met his future wife of 63 years, Ruth Kutz, while attending high school in Washington, DC.

After graduating from University of Michigan in 1952 and then earning a Ph.D. from Harvard University, Russ began his distinguished 63-year career in experimental psychology at Brown University (1955 -2018). He was the primary advisor for 21 Ph.D. students. With them and other colleagues Russ has more than 150 publications and over 18,000 citations. As described by one of his former students, he set the example of how to face challenges and discoveries both in the laboratory and in life.

Russ was an accomplished and avid chess player. He was selected to compete against the IBM chess-playing computer Deep Blue and succeeded in playing it to a draw. Several years before, World Chess Champion Bobby Fischer phoned him to discuss a computer chess program Russ had written. They spoke for two hours!

Russ was preceded in death by his parents and wife. He is survived by his son, Kenneth (Tina) Church, daughter, Emily (Gregg) Moore and three grandchildren, Kyle (Leah) Moore, Brian Moore and Benjamin Church, great-grandchild Addison Carter Moore, two nephews, a niece and a sister-in-law.

A celebration of his life will be held June 27 at 1:30 at the Roger Williams Zoo. Memorials to support graduate student travel and conferences may be sent to Brown University, Box 1877, Providence, RI 02912. Memo line: In memory of Russell Church.
Read More