Obituary for Noel Macdonald Field, Jr.
Noel Macdonald Field Jr. of Little Compton, formerly of Providence, died peacefully at home on June 12th, surrounded by his four children. Noel was predeceased by his wife of 56 years, Phyllis Campbell Field. He was 88 years old.

Born in Providence on May 15, 1934, to Noel Macdonald Field & Ellen Preston Field, Noel lived the majority of his life in Rhode Island. He fully immersed himself in his communities and left indelible marks on the people he encountered along the way. Described by friends as "scrupulously honest and morally upright," Noel's positive energy, generosity, and steady friendship will be greatly missed.

Noel dedicated his time and efforts to many educational institutions throughout his lifetime. He attended Moses Brown School, Hotchkiss, Brown and Harvard Law School. At Brown, he was elected a member of the Phi Beta Kappa and Sigma Si Societies, was a member of the Alpha Delta Phi Fraternity and held the unique role as keeper of the Brown Bear mascot, a responsibility he adored. Noel won the Class of 1952 award for "outstanding scholastic and extra-curricular activity" and was the recipient of the Bear Cub Award, "whose undergraduate service to Brown promises a life of usefulness and reputation to Brown as an Alumnus." True to this intent, Noel served as President of the Alumni Association of Brown's Phi Beta Kappa. Noel also served on the Boards of The Lincoln School, Providence Country Day School, and Rocky Hill, as well as on the Advisory Board of The Gordon School. He could often be found on the sidelines of these schools cheering on children and grandchildren.

Noel loved being on the water. Fortunately, he married his perfect mate to share in this lifetime passion. Noel and Phyllis were introduced by a mutual friend in the receiving line at her wedding: "Noel, this is Phyllis. She sails." was all it took. From then on, they spent all their summers sailing, eventually imparting their enthusiasm to their children. Noel held many roles at the Sakonnet Yacht Club over the years from Steward to Treasurer to Commodore. He was a Senior Judge for US Sailing into his mid-80s and served as judge for countless regattas including the America's Cup Trials, Olympic Trials, local NBYA races, and collegiate events. He was appointed as US Sailing's first Sailor Ombudsman in 2004 and his friends recall ""his analytical approach to problems and his sense of humor." He was also an accomplished sailor in his own right, winning multiple Yngling national championships crewing for his daughter, Ellen and winning several season championships in an Alden at Sakonnet Yacht Club. He sailed the Bermuda Race on three separate occasions including once as the navigator on a naval boat during his service in the Navy. He was never happier than when racing with members of his family - his wife, children, or grandchildren - on Saturdays in Sakonnet. Noel and Phyllis hosted countless sailing instructors for summers in their home while building a robust sailing program on the Sakonnet River. At every opportunity, Noel shared his passion and calm demeanor as a mentor with racing sailors and aspiring judges.

Noel practiced trust and estate law for 42 years at Hinckley Allen in Providence. He always approached his role as one of service and was inclined to say that, like the family doctor, he could be considered the "family lawyer," but unlike the family doctor, he still made house calls. Noel dedicated countless hours to organizations he cared about, including Planned Parenthood of Rhode Island and The Rhode Island Foundation. During winters, Noel would plow the sidewalks around the East Side of Providence on his small tractor. He took no money for the service, but unabashedly solicited donations to the local YMCA come springtime.

As an avid cyclist, Noel loved the open road. Perhaps it started when he rode his three-speed from Boston to Nova Scotia one summer with a group of middle schoolers from Moses Brown; it surely continued as he pedaled his commuter bike to and from downtown Providence. And, for the past twenty plus years, Noel cherished his community of Sakonnet Cyclists, whom he often met at the Art Cafe in Little Compton. Whenever he could, he enjoyed recruiting a "stoker" to pedal on his tandem with him. He kept daily log books of his mileage noting friends or family who might have joined him. Last year, at age 87, Noel once again pedaled an astonishing 5000 miles on his bike.

One of Noel's enduring habits was to keep hand-written log books where he would note important dates, places and events of his life delineating the small moments with family and friends that symbolize a life lived to its fullest. Always pleased to recite a lengthy poem on demand (or completely unsolicited), he was a font of silly rhymes and songs for his grandchildren.

Noel is survived by his daughter Ellen DeW. Field (John Ingalls) of Little Compton, son Noel M. Field III of Little Compton, son Campbell D. Field (Heather) of Westerly and daughter Margaret F. Kelly (Tobin) of Needham, MA. Papa will forever be remembered for his competitive backgammon skills by his six grandchildren: Noel, Cobbler, Luke & Sam Ingalls, and Quinn and Mackenzie Kelly. He is also survived by his sister Sylvia deValpine.

Noel and Phyllis Field will be remembered together at a private ceremony for immediate family. In lieu of flowers, remembrances may be made to The Noel Macdonald Field Fund at the Rhode Island Foundation or to The Butler Hospital Memory and Ageing Program, where Noel had been participating in research for Alzheimers.
Read More
To send flowers or plant a tree in memory of Noel Macdonald Field, Jr., visit the Tribute Store.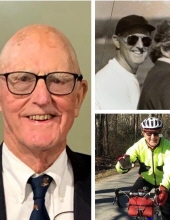 Thank you for sharing your
memory of Noel
Provide comfort for the family by sending flowers or planting a tree in memory of Noel Macdonald Field, Jr..
No thanks, please don't show me this again.