Obituary for Michaela R. Burke
Michaela R. Burke of Rumford and Chatham has been carried on the wings of her white dove to heaven having given roots to so many during her time on earth. She considered her 95 years totaling 34,828 days on earth to have been lucky and happy days full of love and laughter.
She joined her beloved husband Elmer Burke ten years after he preceded her to heaven and eighty years after they first met as childhood sweethearts in the Elmhurst neighborhood of Providence.
Mimi was mother to Michaela Burke Barry, Bob Burke, Mary Ellen Burke Sosa(D), Rosie Connors and Paul Burke. Reed Netter was loved like a son and brother by the family.
Mimi broke the mold becoming a cherished mother-in-law to Annie Burke, Jeannie Burke, Bernie Beaudreau and Paul Barry (D).
Michaela was the firstborn daughter of John and Margaret Rourke's eight children. Mimi was the doting and watchful oldest sister of Sheila Killian Grimes (D), Patricia McCrystal Thompson (D), Anthony "Tony" Rourke (D), Margaret "Dodie" Burke, Rosemary Franz (D), John Rourke and MaryJo Reilly and sister-in-law, Ferna Rourke.
Mimi likened her upbringing to the book "Cheaper by the Dozen".
She was educated at St. Pius School, Elmhurst Academy, Manhattanville College and Katherine Gibbs. She worked for a short time before marrying long time Lappin's Ice Cream soda jerk and altar boy Elmer Burke. They thrived in their Irish Catholic community of Smith Hill.
They raised their five children in her dream home in Rumford where she lived a life of joy until her tranquil and peaceful passing having died of old age.
A 1960 vacation in Chatham on Cape Cod led to a second home and life-long friends who shared idyllic days at the beach, parades, band concerts and all the ice cream and fried clams anyone could ever wish for.
She loved antique stores and little shops ever searching for curios and bargains. For 14 years she was the proprietor of Musical Chairs in a charmed barn at the Gristmill in Seekonk living out her childhood pastime of running a pretend store in her family's sun porch. She was a matchmaker for furnishings in need of a new home.
She raised her family by the simple guide that the only two lasting bequests we can hope to give our children are roots and wings.
Mimi liked to say her bags were packed and was always ready for an excursion, a mystery ride, an afternoon of antiquing, a voyage to Europe or a trip to the supermarket.
She backpacked through Europe riding the night trains and rolling from breweries to cathedrals and bistros to museums with her college aged son and friends.
No strangers existed in her world - there were only friends she had yet to meet.
She adored laughter and reveled in hearing and telling hilarious stories. Her memory was extraordinary, capable of recalling minute details of nearly a century of life even until her passing.
Her kitchen was filled always with welcoming aroma of comforting foods especially the Toll House cookies she doled out to all in times of joy and sadness that were a cure for homesickness, broken hearts and whatever else ailed you.
Her welcome mat was out for Christmas Eve, the Fourth of July Parade or Toast & Tea on a chilly afternoon.
Nothing ever gave her more joy than her "Grands & Greats":
Allie Annie, Nat, Livi, Emma, Terry, Maddie, Mike and Delia.
She was a loving grandmother-in-law to AJ, James and Caroline.
Her great grands Winter, Willow, Kellan, Caleb, Ada and Teddy brought amusement and delight.
She prayed with fervor for her friends on earth to her friends in heaven, sometimes God, mostly to his son Jesus, his mother Mary and her patron Saints Anthony, Christopher (who lived in the car), Patrick and Jude her "go-to" for impossible causes which were many.
She hummed and sang as she cooked and cleaned, vacuuming to Panama Red, cooking and singing Casey Jones, the theme for Mister Ed, songs from the Mickey Mouse Club, the Sound of Music and Mary Poppins, melodies from the Chatham Band and jingles from ads on TV - "away go troubles down the drain…". and her all time favorite Blue Bayou.
Mimi loved to dance. Elmer not so much.
Mimi enjoyed laughing with Elmer while watching Everybody Loves Raymond.
It can safely be said that Everybody Loves Mimi.
Due to Covid, Mimi's funeral service will be private for family.
Friends wishing to view the Funeral Mass may visit this link on Wednesday, June 15 at 10am.
https://us02web.zoom.us/j/89778468199?pwd=STFpZ0k1OW9pSll1WTBINXNZS1Zzdz09
Donations in lieu of flowers can be made to the Mary Ellen Burke Sosa Endowed Scholarship at Rhode Island College.
ink to Mary Ellen Burke Sosa Endowed Nursing Scholarship at Rhode Island College
https://www.ric.edu/department-directory/rhode-island-college-foundation/endowment-and-scholarship-giving/mary-ellen-burke-sosa-78-nursing-endowed-scholarship
Read More
To send flowers or plant a tree in memory of Michaela R. Burke, visit the Tribute Store.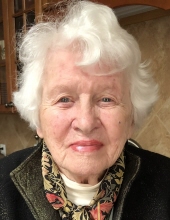 Thank you for sharing your
memory of Michaela
Provide comfort for the family by sending flowers or planting a tree in memory of Michaela R. Burke.
No thanks, please don't show me this again.