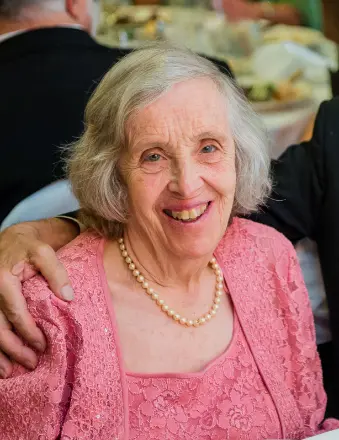 Obituary for Mary Frances Hazeltine
Mary Frances Hazeltine (née Fenn) loved and inspired and gave to the communities she held close.
Mary's unassuming personality belied depth, experiences, and insight that, in her wondrous way, she carried close; this was not for privacy nor propriety, but out of a humility that never passed up the chance to learn about the life and perspective of another.
Those who knew her as co-manager of the food pantry at Camp Street Community Ministries for almost 20 years may not have known that five decades prior, and just down the street, she was a Director at the Lippitt Hill Tutorial. The Tutorial, founded to address the inequities resulting from decades of school segregation, grew to be a city-wide initiative (now called Inspiring Minds) and the model for similar programs throughout the country.
Bookended by this work on the East Side (and spilling beyond it) is a seven-decade legacy of service. Mary was the Providence and then Rhode Island Chapter President of The League of Women Voters and a volunteer officer at Dorcas International Institute, which works with immigrants and those seeking refuge in Rhode Island. In the 1990s, she worked on the Providence Blueprint for Education, which delivered an independent assessment of the Providence Public Schools. As Chair of the Board of the Tockwotton Home in East Providence, she led development of a state-of-the-art senior living community.
Mary's deep spirituality drove years of work with the United Church of Christ at home and abroad. Locally, she was a member of Central Congregational Church, its co-treasurer, and the Chair of the Permanent Diaconate. She also sat on the UCC's National Board for Global Missions.
Her world extended far beyond Providence, the city she made home in 1959.
Mary was born in Beijing, China in 1935 to William P. Fenn, then Head of Foreign Languages at the University of Nanking, and Frances C. Fenn, an English professor. After leaving China at age eight and returning briefly following World War II, the family settled in Princeton, NJ. Mary graduated from Wellesley College with a Bachelor's Degree in Chemistry in 1956, the same year she married Barrett Hazeltine at the Princeton Theological Seminary. Then, in 1958, she earned her Master's Degree in Physical Chemistry from The University of Michigan (months after the birth of her first child, son Michael). In Providence, daughters Alice and Patricia were born, and the family built a community through church and service.
Travels continued into her eighties, always with purpose. Her husband Barrett's sabbaticals and grants brought the Hazeltines to Zambia, Malawi, Botswana, and Zimbabwe, where they lived for almost ten years between 1971 and 2010. There, she lectured in math, chemistry, and computer science at the National Universities. She returned to Asia often, including visiting schools across the continent with the United Board for Christian Higher Education in Asia.
But to see any side of her was to know her at her core: an unfailingly generous, kind, and principled advocate; a font of intelligence, spunk and spirit; a model for all.
Mary Frances (sometimes "Muffin", often "Grandma") is remembered by her family for her steady, caring presence and the vigor she brought to being mother, grandmother, and great-grandmother. A dry, self-aware wit hid behind her warm smile, five-foot frame, and short-a "tomato".
When not cooking dumplings and noodles at family gatherings, Mary suited up as goalie for backyard shooting drills, played board games, and solved Sudoku and the NYT crossword (always in pencil, lest a grandchild wish to make an attempt). An ace card player, she gently tormented opponents in after-dinner card games, as well as in Africa University "bao" (mancala) salons, and, while fleeing China, troopship bridge games.
She joined her husband, Barrett, on walks around Providence and the house they shared beside Rogers Rock on New York's Lake George, and they rarely missed a Brown football game. Tucked behind the laundry room of her basement is a darkroom she built in the 1970s. Some of the last photos taken of her show her grinning widely, leaning into a hug in family candids and crawling on the floor with a great-grandchild.
Mary died on October 5th, aged 88, after a brief and sudden illness.
Carrying on her dedication to others is her deeply loving husband of 67 years, Barrett Hazeltine; her sister Sarah Fenn Luth; her children Michael Hazeltine (Deanna), Alice Hazeltine Allen (David), Patricia Hazeltine (Weldon); her grandchildren Haley Allen Drummond (Jon), Stephen Hazeltine (Emily), Erin Hazeltine Huba (William), Sarah Allen Krebs (Konstantin), William Palmer, Frances Palmer; her six great-grandchildren Marcus, Arya, Mattias, Barrett, James, and Ellia; and the lives and communities she touched around the world.
Services for Mary will be held at Central Congregational Church in Providence on November 20th at 10am. A reception celebrating her life will follow.
Donations in Mary's memory can be made to Dorcas International of Rhode Island, Inspiring Minds (formerly Lippitt Hill Tutorial), or the Lake George Land Conservancy.
Read More
Previous Events
Service
Central Congregational Church
296 Angell Street
Providence, RI 02906