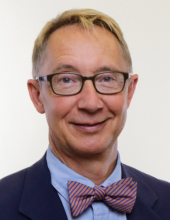 Obituary for Marvin Gene Ronning
With great sadness we announce the sudden, peaceful death of Marvin G. Ronning, a nonprofit leader and community advocate, on Monday, November 7 at his home in Providence, RI. He was 60.
Marvin's devotion to community was reflected in a lifetime of public service and a wide circle of friends. It was almost impossible to enter a public space without an enthusiastic greeting from someone whose life Marvin had touched.
Since 2010, Marvin had been a senior administrator at the Rhode Island Free Clinic, which provides medical care to adults who cannot afford treatment or have no insurance. Most recently Marvin served as Deputy Director, leading the organization's growth and managing treatment for our most vulnerable neighbors during the COVID pandemic. Marvin helped the clinic realize its potential as a training site for aspiring health care professionals, created a network of academic partnerships with every higher education institution in the state, built a dental clinic, and served as Director of the Northern RI Area Health Education Center.
Public education and the stewardship of Narragansett Bay were two other causes to which Marvin was firmly committed. At the Big Picture Company he helped support a national network of innovative public schools, and he recently became Board Chair of The Learning Community charter school in Central Falls. Earlier in his career, Marvin helped Save the Bay embark on a period of growth leading to the construction of the standout Bay Center on Fields Point to make environmental programming more accessible to urban communities. He previously served as executive director at the Sloop Providence and the Children's Museum in Dartmouth, MA.
Easy to spot at work with his bow tie, his exuberant, generous nature made Marvin well known in Rhode Island. He was a guest lecturer and mentor at area universities and served as an advisor to Brown University's School of Public Health and many other community organizations.
A childhood in Montana and the inland Northwest inspired his love of nature, and later Marvin thrived in the coastal Northeast. He became an enthusiastic sailor, kayaker and swimmer, and enjoyed summer weekends with friends at Fogland Point in Tiverton.
Always game for an adventure, he loved to travel and never hesitated to talk to a stranger. At the time of his death he was preparing to celebrate his birthday in Morocco with friends.
Marvin was born on December 18, 1961 in Montana to the late Ethel "Jiggs" Kestell and the late James "Jim" Ronning. Being born with a rare heart condition did not prevent Marvin from giving his heart to others. He created a stunning network of friends of all ages who were inspired by his energy and humor. So many people are devastated to know that his great heart finally gave out.
Marvin received his Bachelor of Arts degree in English and Psychology from Pacific Lutheran University. He also earned a Master of Education, with a concentration in Administration, Planning, and Social Policy, from Harvard University.
Marvin is survived by his brother Michael Ronning, his stepmother Phyllis Ronning, his goddaughter Sylvia Riely-Heilke, and many, many dear friends in Rhode Island and around the world.
A memorial service for Marvin will be held Friday, November 18 at 6:30PM at the First Unitarian Church, 1 Benevolent Street, in Providence. The service will be livestreamed. Reception to follow. No flowers, please. We are building an endowed fund to honor Marvin's legacy in Rhode Island. Donations to the Marvin Ronning Fund at The Rhode Island Foundation may be made here: https://rifoundation.org/funds/marvin-ronning-fund
Tribute page to share memories and photos will be available at: www.mkds.com
Read More
Previous Events
Service
First Unitarian Church
1 Benevolent Street
Providence, RI 02906