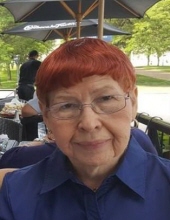 Obituary for Lucinda "Lucy" Herrera
Lucinda "Lucy" LaTorre was a caring mother, grandmother, sister, aunt and friend. She left this world on April 3, 2022 at age 80.

She was born on January 2, 1942 in Arecibo, Puerto Rico. After she arrived in New York City, she married and started on her big family. She bore seven healthy, beautiful children. She was preceded by her son, Luis A. Vidot and survived by her six children. Manuel Morales, Eduardo Morales, Lourdes Morales, Esther Vidot (Bendas), Deborah Vidot (Gonzalez) and Esteban Vidot, her sister Carmen LaTorre and her brother Andres LaTorre, many nieces, nephews and grandchildren. Her legacy lives on in us all.

Lucy was a hard worker and she opted for a career in caring for the elderly and special needs individuals. She began her career as a CNA, and then went into home health care, caring for individuals with special needs in a home setting. She was an avid believer and tried to live her life accordingly. She is missed and loved.

A private memorial service will be held in Rhode Island on Saturday, April 9, 2022.