Obituary for Lillian donovan
The family of Lillian Donovan are saddened to announce her passing on Friday, December 10, 2021, at the age of 85. She died peacefully in her sleep at her home in Cumberland, RI where she lived with her son Jim and his wife Aurelia for the last 3 ½ years. She previously lived in Long Beach, MS and Pawtucket, RI.
She was the loving wife of John (Jack) Donovan from 1958 until his death in Mississippi in 2006. She and Jack lived in Pawtucket from 1958 until 1992 when they moved to Long Beach MS. Jack was a retired Pawtucket Police Detective and a retired Postal worker. Lillian worked numerous jobs in Rhode Island starting at a "Five & Dime", when you could (actually) buy something for that amount of money. Lillian loved her job at Hancock Bank in Mississippi working in the "Vault" and loved the wonderful neighbors they had on Merinda Lane. She took care of Jack during his illnesses throughout her time in Mississippi including riding out Hurricane Katrina as it tore through southern Mississippi and the many weeks of no power afterward. She moved back to Rhode Island in 2017 after an illness to live with Jim and Aurelia.
Born in Pawtucket, she was the first child of Lillian (Carline) and John Brown (affectionally called Ma & Pa). She is survived by her brother Robert Brown, a retired Pawtucket Police Detective and his family, Carol Santos of North Providence and her family, and Edna Bettey of Lee's Summit, Missouri, and her family. She was predeceased by her brother John Brown (whom she always called "Red"), a retired Pawtucket Police Detective and is survived John's wife Betty Brown and her family. She is survived by numerous cousins and their families. During the 1960-1980s, her house on the corner of Derby & Larch Streets, next door to her parents in Pawtucket was the "local hangout" on weekends for family, friends, and neighbors, especially during a summer pool party.
Lillian is survived by her three sons and their families. She loved being a grandmother and great-grandmother and they lovingly called her "Nana" by her two set of twins as grandchildren. She always loved seeing photos and videos of the family, especially of her great grandchildren, Rhett (age 3) and Harlee (age 1) Guthrie.
Her son, John (Jack) Donovan Jr and his wife Diane live in Gulfport, MS, owners, and operators of Jack & Diane's Tattoo in Gulfport. Their four children all currently reside on the Mississippi coast. Connie Rolison and her husband Brian and their children Mackenzie, Justin and Riley. Sean Donovan and his wife Ana and their children Austin, Kolten, Natalie, and Madelyn. Jen Guthrie and her husband Jamie and their children Rhett and Harlee. John Donovan III (Jacko) and his wife Nicole. Jen and Jacko are Lillian's first set of twins.
Her son, James (Jim) Donovan and his wife Aurelia live in Cumberland, RI where Lillian shared their home for the last 3 ½ years. Jim retired in 2019 from Amica Insurance as a HRIS Manager after 33 years and Aurelia owns and runs the Cumberland & South Attleboro UPS Stores with her sister Irene. She was routinely visited by her second set of twins, Megan Donovan of Cumberland, and her companion Tom D'Augelli and Michael Donovan of Woonsocket, RI, and his companion Brianna O'Keefe. Lillian liked to tell the story of how she gave a friend, who worked at Amica, Jim's resume in 1986 which helped him get the interview which led to his career!
Her son, Thomas (Tom) Donovan and his wife Holley live in Long Beach, MS with their daughter Mia. Tom and Holley own and run Biloxi Ink, a tattoo shop in Biloxi MS. Lillian was very pleased to have Holley and her daughter Mia join the Donovan clan in 2020. She loved seeing any photos of them especially the ones of Tom and Mia on Halloween going Trick-or-Treat!
Lillian enjoyed her trip to Mississippi in July of 2020 where she spent time with her sons and families, her Miranda Lane neighbors, and friends. Her big take-aways from the trip were meeting and kissing her great-grandchild Rhett, being able to attend her grandson's Jacko's wedding to Nicole, and having dinner with Tom, Holley and Mia as a welcome to the family.
Lillian always enjoyed the movies on TV, especially her favorite, "Gone with the Wind". She surrounded herself with pictures and collector plates from it and would reread the novel every year. In her later years, Lillian loved watching the exploits of Agent Gibbs on NCIS, Blue Bloods, and Turner Classic Movies, especially if a John Wayne, Clark Gable or Bette Davis movie was on. She liked doing crossword puzzles, reading, and having her nightly drink, a Rum & Diet Coke while watching TV with Jim and Aurelia. She enjoyed visits by everyone, especially her sister Carol bringing breakfast sandwiches and by Aurelia's sisters, Phyllis Cordeiro, Sue Silva and Irene Schmitt, especially when they came over with deserts or to share a glass of wine.
Lillian and her husband Jack donated their bodies for medical research as part of the Anatomical Gift Program. Her gift will be used by the Warren Alpert Medical School of Brown University. As part of this program, her ashes will be returned to the family. A memorial service is being planned and will be held at a future date. More information will be posted on Jim's Facebook page when it is finalized. A guestbook is provided by Monahan, Drabble & Sherman Funeral Home, 210 Taunton Avenue, East Providence, RI 02914. In lieu of flowers, feel free to make memorial donations to your favorite charity or one of Lillian's. Some of her favorites were: (1) Continuum Hospice, 1350 Division Road, Suite 205, West Warwick, RI 02893; (2) St. Jude's, ALSAC/St. Jude Children's Research Hospital, 501 St Jude Place, Memphis, TN 38105 and (3) Wounded Warrior Project, PO Box 758516, Topeka, KS 66675-8516.
The family would like to thank all the relatives, friends, and neighbors for their support during Lillian's illnesses, both in Rhode Island and Mississippi, and especially the nurses and CNAs at Continuum Hospice and Bayada Home Health Care for their services as well as her doctors, nurses, and other health care professionals who always made her feel comfortable and a priority during a medical visit.
Read More
To send flowers or plant a tree in memory of Lillian donovan, visit the Tribute Store.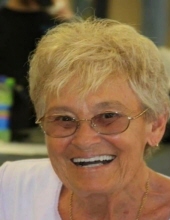 Thank you for sharing your
memory of Lillian
Provide comfort for the family by sending flowers or planting a tree in memory of Lillian donovan.
No thanks, please don't show me this again.