Obituary for John Marshall Roney
John Marshall Roney died peacefully on March 10, 2020, at the HopeHealth Hulitar Hospice Center in Providence, RI.
John was born on September 21, 1939, in Washington. D.C., the son of a Justice Department attorney, Joseph Roney, and his wife, Elizabeth Marshall Chamblin, a teacher. Growing up in Washington with his younger sisters, Ellen and Joanne, he graduated from St. John's Military Academy and attended Providence College. Upon graduation, he was hired as a reporter for The Providence Journal, and then went on to attend The Catholic University Law School. While in school, he worked as a policeman for the U.S. Capitol, and met and married his first wife, Irene Howe of Bristol, RI. They had two children, Christopher and Carley. After receiving his degree, he joined the Library of Congress' American Law Division before moving to D.C. Legal Services, which launched his lifelong advocacy for the vulnerable and voiceless and his appreciation for the power of using the law for the betterment of people and their communities.
John was recruited back to Providence in 1970 to join Rhode Island Legal Services (RILS) where he was instrumental in many precedent-setting civil rights cases, including a class-action police brutality case against the Providence police department, a case establishing First Amendment rights for unemployed workers, and a case establishing prisoners' rights, among many other ground-breaking decisions that improved the rights of the underserved. In sum, he was a true leader in legal reform within the state.
After four years at RILS and a brief stint in commercial litigation, John opened his own civil and criminal law practice on Wickenden Street in Providence with former RILS colleague, Robert Mann. In the 1980s, Lynette Labinger joined the firm and John and Lynette maintained their practice, Roney & Labinger, from 1983 to 2018, when John retired. Over the course of his career in private practice, John continued to establish a sterling reputation in leading numerous high-profile cases in Federal Court such as his defense of the First Amendment rights of RISD students whose controversial art exhibit "Private Parts" had been raided by Providence police and deemed "obscene." John was equally passionate and dedicated in his efforts to help Fox Point families, small businesses, and independent professionals with their legal needs.
In 1988, John married Barbara Kennedy Roney, and they split their time between a restored 1860s house in Providence and a home on the Sakonnet River in Tiverton, where they kept perhaps his most-prized material possession, a 38' Alden Challenger sailboat, Daphne.
Marking a new chapter in his career, John was elected as a State Senator for the Second District of Providence in 1994, serving as Vice-Chair of the Finance and Judiciary Committees and sponsoring numerous significant pieces of legislation, including a critical bill to protect gay rights and a revision of the Uniform Commercial Code. John stepped down as a Senator after eight years, but his service and dedication to the legislature continued for many years in his capacity as the Senate Parliamentarian, dispensing invaluable counsel on procedural issues and other matters, always with an admirable sense of fairness and often a good dose of humor.
He was elected President of the Rhode Island Bar Association in 2003 and was honored with the Community Service Award in 1995 and the Public Service Programs Certificate of Appreciation in 2009 for his tireless work on behalf of local charitable and civic organizations such as Family Service of Rhode Island, Sophia Academy, and Leadership Rhode Island.
John was fiercely loyal to numerous long-time friends with whom he shared countless Red Sox games, sails, and feasts at some of his favorite dining establishments such as Olneyville New York System for hot wieners and Stanley's Famous Hamburgers. He loved sailing and the outdoors, and was happiest on Mt. Hope Bay with friends and family, taking a nightly swim, or fishing and crabbing with his eight adoring grandchildren: Abigail, Ethan, Havana, Cairo, Dublin, Greta, Sylvie, and Harrison, each of whom cherished a unique and playful relationship with him.
In addition to his grandchildren and his wife of 32 years, John is survived by his children, Christopher Roney (Lisa), Carley Roney (David), and Kristina Hanson Lowell (Greg); his sisters Ellen Roney Hughes and Joanne Roney Hepworth (Bill); and his beloved Corgi, Teddy.
~ A life lived well with dignity, grace, enthusiasm, and humor ~
In lieu of flowers, friends wishing to show support are welcome to make a donation to Rhode Island Legal Services (RILS.org) or HopeHealth Hulitar Hospice Center (HopeHealthco.org). A celebration of John's life will be held at the Providence Art Club on May 9th at 3:00.
Read More
To send flowers or plant a tree in memory of John Marshall Roney, visit the Tribute Store.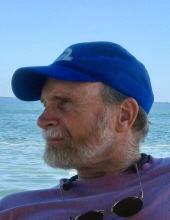 Thank you for sharing your
memory of John
Provide comfort for the family by sending flowers or planting a tree in memory of John Marshall Roney.
No thanks, please don't show me this again.