Obituary for James K. Feeney, Sr.
James K. Feeney, Sr., 85, of West Palm Beach, FL, and Westport, MA, died on July 2 following a lengthy battle with cancer.
Jim was born in Fargo, ND, son of the late Dorothy and Thomas Feeney. The youngest brother of four, Jim made his mark early, attending the Senate Page School at age 16, and serving in the office of William "Wild Bill" Langer from North Dakota.
Jim thrived while in Washington, D.C., but he declined a repeat year to return to Shanley High School in Fargo. Many were dismayed at this decision, seeing a bright future for Jim in law and politics. Jim had other plans.
The Shanley High School football team was in the early stages of a dynasty and Jim would return as the starting center. He wasn't about to miss this opportunity. Jim returned to Shanley and his team repeated as North Dakota State champions, a fact of immense pride for Jim.
Dating Sandra Benedict in high school was another exceptional decision made by Jim. They married while Jim was a student at North Dakota State University. After Jim graduated with a degree in Industrial Engineering, he and Sandy relocated to Seattle where Jim worked for Boeing.
The young couple deployed to Florida next where Jim serving as a First Lieutenant in the U.S. Air Force at Eglin Air Force base. While in Florida, Jim and Sandy welcomed two sons, Jim Sr. and Patrick.
Three years, three months, and three days later, they returned to Minnesota where Jim worked for Honeywell, and then Sheldahl. Dan was born soon after and the family settled into a full life in Northfield, MN.
In 1976, Jim received a call that an opportunity awaited him in Rhode Island. Sheldahl needed him to run the Rumford, RI operation. The family moved to Barrington, RI.
The next career move came quickly. Jim was hired by Windmoeller & Hoelscher (W&H) Corporation, a German company, as President to launch a North American-based sales and service operation in Lincoln, RI. Many doubted the potential market for success.
Jim proved them wrong.
By the time Jim retired from W&H in 2001, sales in North America had grown from $5M per year to over $100M. During Jim's 24-year tenure, gross sales topped $1B.
Jim was a tough, but fair boss. He was arguably the hardest working employee at W&H, and he never asked something of his employees that he was wasn't willing to do himself. He led by example with a legendary work ethic. Jim was also renowned for his thoughtful guidance and mentorship, always willing to give time and attention to support employees, friends, and family.
Jim was revered in his profession and he gave back to the industry in many ways. He served as President of two associations—the Packaging Machinery Manufacturers Institute (PMMI) and the Flexible Packaging Association (FPA). FPA inducted Jim into its Hall of Fame.
Given Jim's dedication to the health and well-being of W&H and his employees, his family was worried that retirement would be a challenge for Jim in 2001. He proved us wrong again.
Jim flourished in Florida, loving the life and sharing it generously with his family and friends. Jim captured every moment on his latest iPhone and created custom DVDs for immediate viewing. He stocked the pools with toys and floats and grilled like a master chef for every meal.
After years of tennis and golf as his go-to sports, Jim ditched the racquets and clubs for a mallet, and he and Sandy became croquet staples at the National Croquet Center in FL and at the Marion Mallet Club in MA, where he served on its Board.
While West Palm Beach was frolicking fun for all, Westport was serene living at its best. The family's favorite place was sitting together at the long wooden table on the screened-in porch, eating and drinking while enveloped by the sloping green of the yard and buoyed by vibrant blooms from Sandy's impressive garden.
Jim usually sat across from Sandy at the end of the table when it was packed with family and friends. He faced the paned windows into the little cottage they loved, always giving her the view looking out at her garden. But Jim knew that he really had the best view of all, looking across the table at his wife of 63 years.
Jim leaves his wife, Sandra; three sons, Jim Jr., Patrick; and Dan, daughter-in-law Mackie, and four granddaughters, Jaymi, Minerva, Tyler and Jesse.
There will be a Celebration of Life for Jim at the Squantum Association in Riverside, RI, on July 22 at 12:00 noon. A private burial will take place at a later date. Calling hours are respectfully omitted. Please, in lieu of flowers, donation in his memory may be made to a Cancer Research of your choice.

To send flowers or plant a tree in memory of James K. Feeney, Sr., visit the Tribute Store.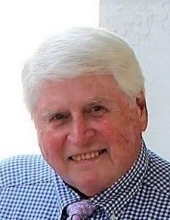 Thank you for sharing your
memory of James
Provide comfort for the family by sending flowers or planting a tree in memory of James K. Feeney, Sr..
No thanks, please don't show me this again.