Obituary for Essjay Foulkrod
Essjay Foulkrod of Peace Dale, Rhode Island died peacefully at home on April 27, 2023 at the age of 97. A native of Weston, Massachusetts, she was born June 18, 1925. She also went by S-J and her given name of Sylvia-Jane. She is survived by her sister Debra Holloway (Fred Farnham); daughters Elizabeth Foulkrod and Joanne 'Jo' Foulkrod (David Tode Oshin); son Paul Foulkrod; grandsons Nicholas Brotman-Foulkrod, Robin Foulkrod (Emma Lindberg), and Kestrel Oshin; wife Pam Brightman; and many good friends.
Essjay was inspired by earth-centered traditions celebrating the seasons and the circle of life. She honored the traditions of native americans and first peoples. She worked to live thoughtfully, explore the world, and support other people. She was a life-long activist for civil rights, LGBTQIA+ rights, environmentalism, anti-racism, and other social justice causes. She participated in marches and rallies, including the anti-war protests in the 1970s, and gay rights outreach and advocacy starting in the 1990s.
She was athletic and active; she enjoyed riding, sailing and kayaking, and folk/ contra/ square-dancing. She taught horsemanship at the University of New Hampshire in her teens, and was leading exercise classes into her nineties. She loved traveling in her camper-vans, ranging far and wide across the countryside.
She loved lobster, scallops, coffee ice cream, and cheddar cheese. She enjoyed lunches at Camden's Old Mountain Lane coffee shop, and treats at Green Line Apothecary and Brickleys. She enjoyed visiting the Tomaquag Museum, the Gentle Farm, and ocean beaches. She was lively and fully engaged with the world until the last hours of her life.
She had a deep connection with the natural world, and was a friend to all animals; the four-legged, furred, finned, and feathered. She loved horses; raising them as a girl, showing them as a young woman, and later visiting local stables and watching all the equestrian events during the Olympics. She managed to be up on horseback at the age of 95. She also loved her dog companions, the most recent of which were Trina, Trinket, and Lucy.
She formed a women's group in Newton that met for almost fifty years. She was a life member of Ferry Beach, where she participated in many conferences, especially enjoying the 'In the Company of Women' gatherings. She was a force in Unitarian Universalist feminist, pagan, and LGBTQIA+ communities for decades.
She was a founder of the White Wing Nursery/Kindergarten School (Nashua), the Sharing Locker (New Bedford), and local chapters of the Covenant of UU Pagans (CUUPS) and Womensphere. She served as a docent at the New Bedford Glass Museum and the Hale House. She served in a wide variety of community organizations and LGBTQIA+ support groups, including SAGE/RI.
Essjay attended the Brimmer and May School, Dover High School, and University of New Hampshire; she received her Doctor of Veterinary Medicine (DVM) from Middlesex University in 1947.
She worked at Boston University, first as the Laboratory and Equipment Coordinator in the Biology department, and then as the Science Acquisitions Librarian at the Mugar Memorial Library. She was operations manager of the Childrens Museum (Dartmouth), and president of the Country Dance Center (Boston). She owned and operated the Hare & Tortoise Antiques and Collectibles Shop, Womenplace Bookstore, and Womynspace (all in Fairhaven).
She was a seventh-generation Unitarian. She was past president of Westminster Church (East Greenwich), past Director of Religious Education of First Church (New Bedford), and had been on the board of many other congregations. She was an active member of UUCSC (Peace Dale) for the last ten years.
She lived most of her life in New England; in Weston, Cambridge, Boston, Nashua, Westport, Fairhaven, Peacedale, and other towns. She enjoyed visiting her grandparents' homes in Temple, New Hampshire and Annisquam, Massachusetts.
She was preceded in death by her mother Emma Gale 'June' Holloway, father William Edward 'Ed' Whittemore, brother David Whittemore; step-father Snow Holloway; and step-mother Margaret 'Peggy' Whittemore.
Essjay had an extraordinary life, rising above many challenges to thrive and share her loving kindness with others. She will be deeply missed by all her friends and family. In lieu of flowers, please consider donating to the Southern Poverty Law Center or the Nature Conservancy. All are welcome to join a memorial service for Essjay on June 10th at 2:30 P.M. at the Unitarian Universalist Congregation of South County, 27 North Road, Peace Dale, RI 02879. For those unable to attend in person, a Zoom link will be available.
Read More
To send flowers or plant a tree in memory of Essjay Foulkrod, visit the Tribute Store.
Upcoming Events
Service
Unitarian Universalist Congregation of South County
27 North Road
Peace Dale, RI 02879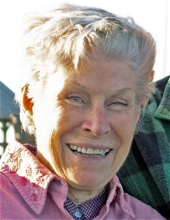 Thank you for sharing your
memory of Essjay
Provide comfort for the family by sending flowers or planting a tree in memory of Essjay Foulkrod.
No thanks, please don't show me this again.