Obituary for David Krause
Providence;  David Krause, a leading scholar and biographer of Irish playwright Sean O'Casey, died peacefully in his sleep Friday, August 26 – with his wife, Anne, at his side – in Hallworth House, Providence, R.I.
 
Krause, a lifelong poet, taught Anglo-Irish literature at Brown University for more than three decades. He is the author of four volumes of O'Casey's letters as well as numerous other books, critical reviews and essays. His books include "Sean O'Casey: The Man and His Work" and "The Profane Book of Irish Comedy."
 
Krause arranged to meet O'Casey in 1954 in the south of England after discovering his plays and initiating a correspondence. The encounter led to friendship and a lifelong study of the man's work.
 
Krause was born in Paterson, N.J., where he grew up with older brother Joseph and younger brother Sydney. His parents emigrated to the U.S. from Poland, having escaped the ghetto in Lodz before World War I.
 
One of his first jobs involved words, as a young typesetter in a local print shop.
 
He was drafted in 1942 during World War II and served with the U.S. Army Air Corps for the next four years. Krause was stationed at an English airfield where, as a sheet metal mechanic, he patched up flak-riddled B-24 bombers returning from missions over Germany.
 
After the war, he took advantage of the G.I. Bill to attend college. Five days a week, he made the three-hour round-trip trek from Paterson to the New York University campus by train, bus and subway.
 
Krause received his Bachelor of Arts degree from NYU in 1949 and a master's degree from the University of Minnesota in 1951. In 1952, he earned a doctorate degree from NYU. 
 
He worked as a professor of English at Brown University from 1953 to 1987.
 
It was at NYU that he discovered Ireland during an undergraduate course on the country's literary Renaissance, thus launching a life-long love of the Irish people and their literature.
 
Krause was drawn by the powerful words of Irish writers – most notably O'Casey, James Joyce, W.B. Yeats, J.M. Synge and Lady Gregory.
 
As he often said, quoting Yeats, "Words alone are certain good."
 
Drawn initially to Ireland in the 1950s by his book research, Krause returned often. There, in his publisher's Dublin office, he met the love of his life, Anne Gough. They were married in Waterford, Ireland in 1966, and he promised her and her big Irish family that they would return every summer – a promise he kept for 42 years. In 1970, they purchased a cottage together in County Wexford that became the family's annual summer retreat.
 
In the 1960s, Krause traveled extensively to England and Ireland in search of people O'Casey had written to over the years. His exhaustive research and detective work led to four volumes of O'Casey's letters.
 
The first volume, published in 1975, was one of the Times of London's 10 best books of the year.
 
Like his literary hero, Krause reserved his greatest respect for the hard-working people of Ireland – the dockworkers, commercial fishermen and farmers on whose labor the local economies depended.
 
In his poetry, Krause exhibited a naturalist touch, detailing simple, quiet scenes in nature. His poems speak sparingly yet potently of the tender everyday, and of human flaw and heartache, while weaving the wretched with the sublime.
 
Krause published three books of poetry, Yellowhammer, Finnegan Unbound, and Fifty Wexford Sonnets.
 
He is survived by his loving wife, Anne, and their four children, Stephen, Kevin, Peter, and Kathy; four grandchildren, Conor, Cooper, Liam and Declan; his younger brother, Syd, and sister-in-law, Ruth; daughters-in-law Ali and Stella, and son-in-law, John; and his nieces and nephew and sister-in-law Evelyn, and his many nieces and nephews in Ireland. He will be buried in the family plot in Ireland on a hill overlooking the church where he and Anne were married.
 
The family will be receiving friends Tuesday, Aug. 30 at The Monahan, Drabble & Sherman Funeral Home 230 Waterman St in Providence from 5-7 p.m. In lieu of flowers, the family requests that donations be sent to Hallworth House nursing home in Providence.
Read More
To send flowers or plant a tree in memory of David Krause, visit the Tribute Store.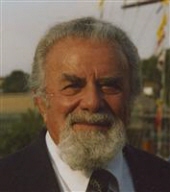 Thank you for sharing your
memory of David
Provide comfort for the family by sending flowers or planting a tree in memory of David Krause.
No thanks, please don't show me this again.