Obituary for Cynthia Comery Ferguson
Cynthia Comery Ferguson, 73, admired by friends and family as a woman of culture, intellect and wit, and celebrated for her fine cooking, died peacefully on May 18, 2021, in East Providence. She was born November 6, 1947, in Providence to the late Robert Comery and Dorothy (Haslam) Comery.
She distinguished herself as a graceful hostess and an excellent cook: invitations to her dinner table were highly coveted. Her wry and oft-pointed political observations were well-considered. Above all, she distinguished herself as a loving mother and sister, and - before her husband's passing - a loving wife.
Cynthia grew up in Providence, where she attended The Gordon School and Henry Barnard School, graduating from Lincoln School in 1965. A junior summer abroad in Tours, France, secured her love for that country and its cuisine.
From childhood on, Cynthia and her sister, Beth, spent summers at their grandparents' summer home at Plum Beach in Saunderstown. Those seaside days, often shared with cousins, revolved around tennis, swimming, digging up steamer clams for dinner, and long idle hours on the porch reading and doing nothing. Numerous blue jars of Noxzema were needed for the sunburns. To pass the time during family car trips, Cynthia and Beth turned the back of the station wagon into a pretend hideout, outfitted with piled bedding, a stash of comic books and essential snack provisions while Dad motored down the highway.
Cynthia earned a B. A. in English literature and history at the University of Rhode Island. She then earned two master's degrees; one in education from Rhode Island College, and the other in communications from Boston University.
She began her career by teaching English as a Second Language in Attleboro Public Schools. In the 1980s, her career track shifted to writing and communications. She pursued journalism as a correspondent for The Pawtucket Times and USA Today. She loved covering local news, and was particularly pleased when she scooped The Providence Journal – the state's largest newspaper. Cynthia also wrote several book-length organizational histories for the Rhode Island Historical Society, including "A Century of Caring: VNA of Rhode Island, 1900-2000."
She handled communications for various Rhode Island corporate clients, including the noted A.T. Cross Company and Monet, manufacturer of high-quality costume jewelry, for many years, as well as nonprofit organizations and institutions. The latter included Brown University, where she particularly enjoyed interviewing the Ivy League university's scientists for George Street Journal. Her most recent position was as Coordinator of Communications for Ready to Learn Providence. Wherever she worked, Cynthia had a way of quickly making friends with new colleagues and helping make the work environment a cheerful, collaborative space.
Cynthia is predeceased by her husband, Stephen J. Ferguson, who died in 2002. Together they raised one daughter, Lily E. Ferguson, to whom they were devoted. Later in life, Cynthia was reunited with a biological son, Brian Lunn of California. Brian and his wife, Julie, have since become an integral part of Cynthia's family.
Cynthia's main pleasures in life revolved around cooking, eating and entertaining. Her gastronomical tastes ranged from rustic to gourmet, whether of her own creation, or that of others. She loved entertaining family and friends, and they in turn cherished being welcomed to her table. She reveled in discovering new places to eat and perfecting new recipes. To her great joy, her daughter has followed in her footsteps. They planned their mother-daughter trips to Italy, Paris, and Montreal around the local cuisine.
Cynthia was an avid reader whose eclectic tastes ranged from author, chef and travel documentarian Anthony Bourdain, to Norwegian literary sensation Karl Ove Knausgaard. She leaves behind a wall of cookbooks amassed over the years. Her wide-ranging music library ran from the Modern Jazz Quartet to the Rolling Stones, with the Traveling Wilburys in heavy rotation for quite a while. Cynthia cherished her garden, getting newly inspired by British gardener, Monty Don, and his show on the BBC. There were always a few animals in the house: cats in the early years followed by a rambunctious yellow Labrador retriever and, most recently, her little black poodle Lulu. Another passion: discussing the politics of the day with friends, although with increasing anxiety about the country she loved. She favored the political commentary on MSNBC and HBO's "Real Time with Bill Maher," but her favorite political show was undoubtedly the satire "VEEP."
An early interest in family history advanced when she discovered an online genealogy site that allowed her to expand on the family tree. Inevitably, she employed her writing, editing, and layout skills to create a series of booklets for each branch of the family tree. She used photos, maps, ship manifests, and diagrams to create lively, historical documents. A stickler for accuracy, she fact-checked everything she wrote, and never printed anything that she could not. She distributed copies to her cousins, who often grew impatient for the next installment.
Cynthia leaves her sister, Elizabeth [Beth] Comery of Providence; her daughter, Lily E. Ferguson, of Los Angeles, California; the Lunn children: Bailey, Morgan, and Parker, and several cousins with whom she always kept in touch. The interment will be private. In lieu of flowers, donations may be made in her name to the ActBlue.

To send flowers or plant a tree in memory of Cynthia Comery Ferguson, visit the Tribute Store.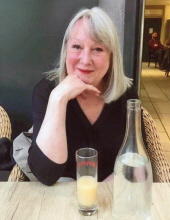 Thank you for sharing your
memory of Cynthia
Provide comfort for the family by sending flowers or planting a tree in memory of Cynthia Comery Ferguson.
No thanks, please don't show me this again.