Obituary for Camelia Helena Perez
Camelia Helena (Schatteman) Perez, 98, passed away at home, in Providence, RI, on Friday, June 22, 2018. Camelia was born in Zele Belgium to Oscar and Maria (Pope) Schatteman. She was the youngest of four sisters: Julia, Clementine and Alice who preceded her in death.
Camelia came to America when she was three years old. She loved the fact that she came through Ellis Island on her way to Chicago, IL, where she grew up. Like many immigrants, she entered elementary school speaking only her native language, Flemish. Quite the independence thinker already; she ran away from school only to be sent right back by her parents. She was an avid lover of sports and played for her CYO, where she won medals for basketball, baseball and swimming. She was proud of the fact that she learned to swim in Lake Michigan at her parents' summer home. In high school, Camelia was active in sports and singing in the school's chorus. Her singing voice was outstanding and she frequently was singled out for solo performances. She was flattered by her teachers, who encouraged her to pursue opera signing.
As a young woman she decided to move across the country to California to be a part of the World War II efforts. It was at that time, that she learned she wasn't a citizen of the USA and couldn't formally join. Many years later, she proudly obtained her citizenship and became a full fledge USA citizen. It was in San Francisco, CA, where she met and married her dearly loved husband of over 50 years, Frank Carmona Perez, and became an Air Force wife. He preceded her in death in 2001. They moved around the country, wherever the Air Force sent them.
She was the anchor to her family at home in the USA while her husband was sent on numerous overseas military assignments. Camelia is survived by her daughters, Irene Bates of Providence, RI; Charleen Bryant of Grand Terrace, CA; Patricia Perez-Compton of Mesa, AZ; and son and daughter-in-law Frank Allan and Lei Perez of Las Vegas, NV.
While living in Savannah, Georgia, she was finally able to pursue a dream of nursing. She graduated from a new and innovative nursing assistance program at Chandler Hospital. She still had her uniform and graduation pin. She was very proud that the head of that program thought her gifted in nursing and encouraged her to pursue a bachelor's degree in nursing; yet the many military assignments and moves never left her in one place long enough to get that degree.
One of her great delights was in 1976 when she traveled to Belgium to see where she was born and meet family. It was amazing to see where she came from and meet her mother's sister who at 95 still rode her bike into town most every day for fresh produce.
The last Air Force assignment brought them to March Air Force Base in Moreno Valley, CA which is where they retired and remained. It was during that time, that they enjoyed traversing the USA, in their RV, often with other retirees or even a grandchild. She was actively involved in caretaking of her grandchildren, often having a grandchild staying with her in the summer months. She leaves 10 grandchildren and 17 great-grandchildren.
She spent her last ten years in Providence, Rhode Island, living with and being cared for by her daughter, Irene. She enjoyed playing board games and reading with her great grandchildren and watching them play baseball and soccer. While living in Providence she continued in her love of bowling but with a switch. it was during this time she was introduced to 'duck pin' bowling. Her 96 and 97 birthdays were celebrated with bowling parties. Camelia showed her true fighting stamina as she was a 54-year survivor of breast cancer.
A funeral mass will be held at St. Michael's Church in Smithfield, RI on July 10, 2018 at 10 am. A graveside service will be held on August 6, 2018 at Riverside National Cemetery. In Lieu of flowers, donations may be made to the Alzheimers Association of R.I., 245 Waterman St., #306, Providence R.I. 02906 or to Kindred Hospice, 2374 Post Rd. #206, Warwick, R.I. 02886 who the family would like to thank for their assistance and care in the final weeks of her life.
Read More
To send flowers or plant a tree in memory of Camelia Helena Perez, visit the Tribute Store.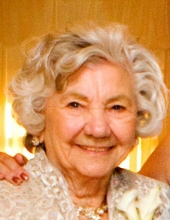 Thank you for sharing your
memory of Camelia
Provide comfort for the family by sending flowers or planting a tree in memory of Camelia Helena Perez.
No thanks, please don't show me this again.